Air raid alert in Ukraine on August 15 - Missiles launched from Tu-95MS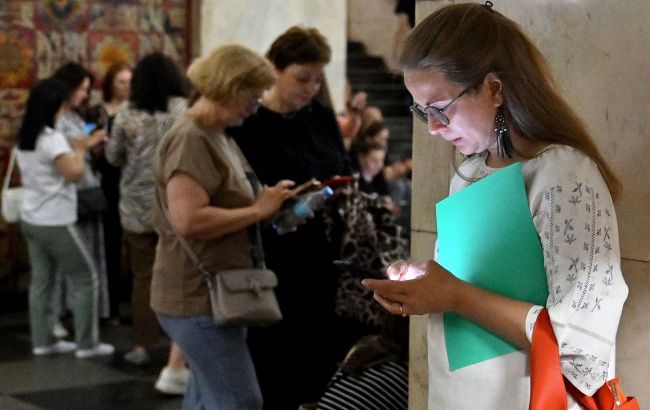 Air alarm has been declared in several regions of Ukraine (photo: Getty Images)
An air alarm was declared in several regions of Ukraine on the night of Tuesday, August 15, due to the threat of enemy missile attacks, according to the Telegram channel of the Air Force Command of the Armed Forces of Ukraine.
According to statements from military authorities, the current air alarm has been prompted by the launch of cruise missiles from Russian Tu-95MS strategic bombers operating in the Caspian Sea vicinity.
A released statement emphasizes, "Initial missiles have breached Ukrainian airspace. It is imperative not to disregard the air alarm signals."
Consequently, the alert for potential missile threats has been issued for Ukraine's Sumy, Poltava, and eastern regions.
Later on, the Armed Forces also issued a warning about missile danger in the southern part of the country.
Expansion of alerts
Alarm signals were also sounded in Kyiv and the surrounding region, as well as in other central areas.
The heads of regional Military Civil Administrations (MCA) and local authorities are urging residents in regions where the alarm has been declared to seek shelter and adhere to the "two-wall" rule.
In the Air Force, later it was reported about the likely presence of 2 groups of cruise missiles heading towards Ukrainian territory.
"The preliminary information regarding the border crossing is an imitation of high-speed targets by enemy means," the statement says.
A large-scale air raid alert
Around 4:00 AM, residents of Zaporizhzhia, Kirovohrad, and Dnipropetrovsk regions (including the residents of Dnipro) were called upon by the Civil Defense to proceed to shelters.
The alerts have expanded to the western regions, covering the entire territory of the country.
Air alarm map in Ukraine during the night of August 15
Air attacks by Russia
It should be noted that earlier, on the night of August 14, Russian forces carried out missile and drone strikes on Odesa. The aggressors used Kalibr missiles from the Black Sea waters, conducting attacks from a frigate in the vicinity of the occupied Yalta. The Shahed drones were launched by the enemy from the territory of Primorsko-Akhtarsk (Russia). All airborne targets were successfully intercepted by our air defenders.
Details of the combined rocket and drone attack by Russian occupiers on Odesa on the Night of August 14 can be found in the articles by RBC-Ukraine.
Recently, the representative of the Defense Intelligence of Ukraine, Andrii Yusov, stated that Russia continues to produce Kalibr, Kinzhal, and Iskander missiles, although the scale is not as extensive as before. The Kremlin no longer stockpiles them; instead, they are promptly released to Ukraine.
Previously, the Spokesperson of the Air Forces Command of the Armed Forces of Ukraine, Yurii Ihnat, stated that Russia still has hundreds of missiles of various types in reserve. Furthermore, the enemy continues missile production to replenish its own stockpiles.