Japan's interest in Ukrainian technologies - Ambassador's insights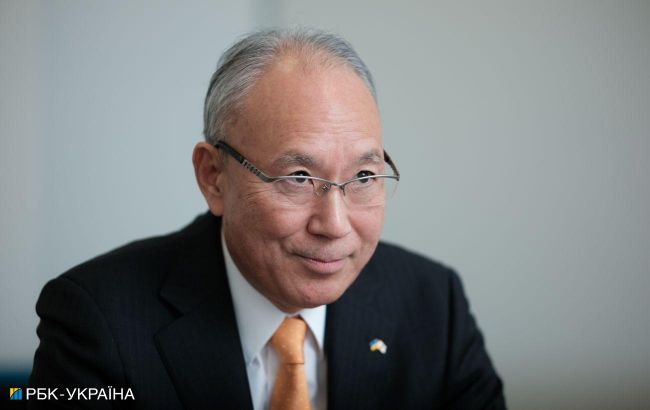 Photo: Matsuda Kuninori, Ambassador of Japan to Ukraine (Vitalii Nosach, RBC-Ukraine)
There are many technological areas of Ukraine in which Japan is interested. Among them, for example, IT applications, the medical industry and others, says Japanese Ambassador to Ukraine Matsuda Kuninori in an interview with RBC-Ukraine.
What technologies should cooperation focus on?
Kuninori noted the extent to which Ukraine has advanced in the digitalization of everyday life, in particular administrative life. According to him, information technology is one of the very promising areas on which the countries should focus in cooperation.
Conferences on the recovery of the economy of Ukraine
"When it comes to the bilateral Japan-Ukraine recovery conference, which will be held early next year, we would like to see as many Ukrainian companies as possible to participate in the conference and meet and discuss and negotiate with Japanese companies so that we will have a concrete outcome of this conference. And for that matter, Embassy of Japan has been already involved in very active business matchings," the Ambassador says.
According to Kuninori, Japan plans to bring a business mission to Kyiv and invite a similar mission from Ukraine to Tokyo. The efforts of both countries will lead to concrete results after the leaders' meeting early next year.
What technologies is Japan interested in?
"There are many areas where we are interested. For example, we would like to learn more about Ukraine's applications of IT," the Ambassador says.
In particular, the Ambassador noted:
Diya;
the medical industry, since Ukraine currently has a much higher need for medical services;
production of military and civilian UAVs.
the energy sector, as Ukraine has internationally known companies such as Naftogaz, Ukrenergo, Energoatom, and DTEK.
"I think that Japanese energy-related companies have many opportunities, such as investment, joint research and development and production in generators, transformers and nuclear technology," the Ambassador explains.
Aid to Ukraine from Japan
Japan is one of the main allies of Ukraine, which supported our country at the beginning of the full-scale invasion of Russia.
On October 7, Kyiv and Tokyo began the first round of negotiations on security guarantees. In particular, our countries will cooperate in issues related to the restoration and demining of territories liberated from Russian occupation.