Israeli Defense Forces seizes control of Gaza's parliamentary building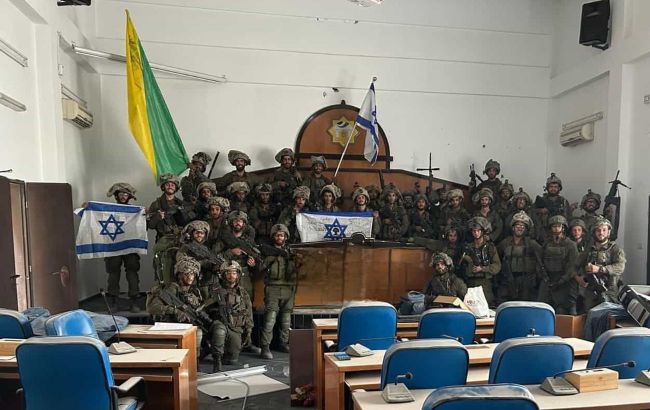 IDF regains control of Gaza parliament (Photo: twitter.com)
The Israeli Defense Forces (IDF) have gained control of the Gaza parliament building for the first time since 2007, according to The Times of Israel.
Photos on social media indicate that the Israel Defense Forces (IDF) has taken control of the parliament building in Gaza City.
One photo being circulated on social media displays members of the IDF's Golani Brigade within the Gaza parliament building, according to the news report. The soldiers hoisted Israeli flags.
IDF regains control of Gaza parliament (Photo: twitter.com)
The Palestinian Legislative Council building in Gaza has exclusively served Hamas lawmakers since the group took control of the Strip in 2007.
Israel's war with Hamas
Hamas militants attacked Israel on October 7, abducting both soldiers and civilians. In response, Israel launched "Operation Iron Swords" against the terrorists.
The Israel Defense Forces then broadened their ground mission in the Gaza Strip, deploying both troops and equipment.
In addition, it was discovered that Hamas had lost control of the northern section of Gaza. The IDF caused substantial harm to Hamas forces, resulting in the evacuation of residents to the south.
On November 13, the IDF disclosed the deaths of multiple Hamas commanders.
Israel declared that the HAMAS had relinquished control of the Gaza Strip and were moving southward.