Explosions in occupied Crimea, reports of drones and air defense operation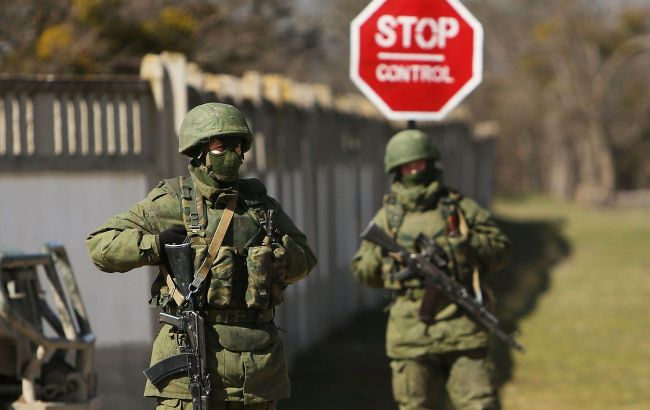 Russian military in occupied Crimea (Getty Images)
In the temporarily occupied Crimea, explosions were reported in the area of Feodosia on the night of August 4, with Russian anti-aircraft defense systems operating, reported the Crimean Wind Telegram channel.
Local residents started posting about the initial sounds of explosions on social media around half past three in the morning. Subsequent explosions were heard later.
Some social media posts mentioned a buzzing sound resembling that of a drone.
The explosions were said to be occurring in the Feodosia-Primorsky area.
"The Russian air defense is operating in Feodosia, with audible salvos. We have already counted from 5 to 7 explosions. Reports also indicate the sound of drones," the publication stated.
Reports also indicate the presence of ambulances rushing through the streets of Feodosia.
Explosions were also reported in Armiansk, as per local Crimean social media channels.
Additionally, air raid siren was heard in Dzhankoi military town, lasting about half an hour.
The occupiers commented on the explosions
Oleh Kryuchkov, an advisor to the head of Crimea, wrote in his Telegram that their anti-aircraft defense shot down targets at night.
"The air defense systems were activated in several areas of Crimea. All targets have been downed... No damage or casualties reported," the representative of the occupation "administration" said.
Explosions in Crimea
Explosions in Crimea have become a recurring phenomenon lately. For instance, on August 2, powerful explosions occurred on the peninsula, leading to Russian occupiers closing the Kerch Bridge. Simferopol, as well as Novofedorivka and Hvardiiske, reported thunder-like sounds.
On August 1, an explosion was also reported in Sevastopol, so powerful that it was heard in Bachchisarai, located 30 km away from the city.
It was also reported that on July 29, the Ukrainian Defense Forces carried out a second successful attack on the Chonhar Bridge (the first one was on June 22).
Kherson collaborator Vladimir Saldo claimed that the Ukrainian attack on the Chonhar railway "with 12 Storm Shadow missiles" was allegedly repelled by Russian air defense systems. However, later photos of damaged railways proved the opposite.
As military expert Oleksii Hetman mentioned in a conversation with RBC-Ukraine, the Armed Forces of Ukraine continue to carry out precise operations and disrupt the enemy's logistics. Consequently, Crimea might soon become an "island."