Cameron promises military aid to Ukraine and support for swift NATO access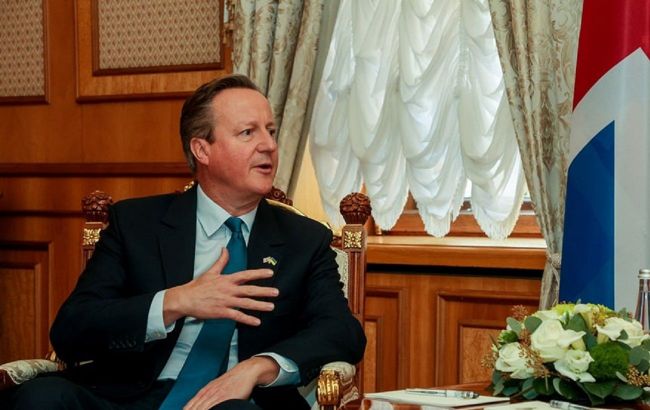 Photo: British Foreign Secretary David Cameron (facebook.com/dshmyhal)
The newly appointed Foreign Secretary of the United Kingdom, David Cameron, who made an unannounced visit to Kyiv today, declared ongoing long-term support for Ukraine, particularly in the defense sector, according to the UK Foreign Ministry.
During his first foreign visit in his capacity as the head of the Foreign Ministry, the British official met with President Volodymyr Zelenskyy, Prime Minister Denys Shmyhal, his counterpart Dmytro Kuleba, and Deputy Prime Minister Olha Stefanishyna.
"We will continue to give you the moral support, diplomatic support, the economic support, but above all, the military support, that you need not just this year, and next year, but for however long it takes," Cameron stated in his conversation with the head of state.
According to the British minister, Russia believes it "can wait this war out" and that "the West will eventually turn its attention elsewhere."
"This could not be further from the truth," he noted.
In turn, Zelenskyy mentioned in a video posted on social media that the global community "is not focused on the situation on our battlefield in Ukraine, and dividing the focus doesn't really help."
The President added that the parties had a "good meeting," focusing mainly on weapons for the front line, strengthening air defense, and protecting Ukrainian citizens and critical infrastructure from Russian shelling.
In a conversation with Ukrainian Deputy Prime Minister Stefanishyna, Cameron discussed Ukraine's aspirations to join NATO.
"The UK is clear that Ukraine's rightful place is in NATO and is working with Allies to smooth the path to Ukraine's accession by removing the need for a Membership Action Plan," the British Foreign Secretary stated.
British Assistance
Recently, the UK Minister of Defense, Grant Shapps, stated that the country would provide more military assistance to Ukraine and unite allies to provide everything necessary for victory in the war.
Shapps also announced a new package of military aid to Ukraine at the Ramstein meeting in early October. The package is valued at $123 million.
Recently, the General Staff of the Armed Forces of Ukraine reported that a real village in the UK had been transformed into a training ground for Ukrainian military personnel. This will allow them to gain experience in conducting combat operations in urban conditions.
It's worth noting that on November 13, before the winter set in, Britain delivered a new package of military assistance to Ukraine.