Another person hospitalized: New photos of the aftermath of missile strike on Kyiv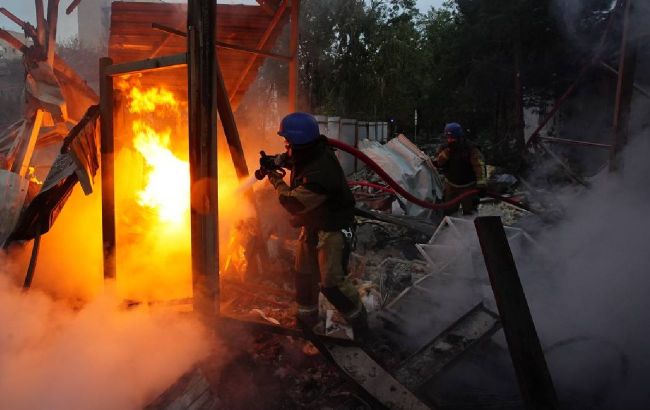 Photo: Another injured person hospitalized in Kyiv (facebook.com/DSNSKyiv)
In Kyiv, another person who suffered from a rocket attack on September 21 has been hospitalized. A 16-year-old girl was brought to the hospital, inform the mayor Vitaliy Klitschko, and the State Emergency Service in Kyiv.
Klitschko noted that in the Shevchenkivskyi district, a gas pipe was damaged as a result of falling debris, and windows were also blown out in a nearby house. Medics hospitalized the 16-year-old girl with an acute stress reaction.
Rescue workers also showed how they were dealing with the consequences of the enemy attack in the Darnytskyi and Shevchenkivskyi districts of Kyiv. Fires broke out as a result of the falling rocket debris.
Houses and auto repair shops were damaged due to Russian rockets. At the scene, 55 rescuers and 10 units of regular and special equipment were working.
Photo: Rescuers showed how they were eliminating the consequences of the attack on Kyiv (facebook.com/DSNSKyiv)
What is known about the overnight attack
Tonight and this morning, Russian occupiers attacked Ukraine with 43 missiles, with our military intercepting 36 of them. Explosions were heard in many regions, including Kyiv and its outskirts.
Near the capital, air defense forces shot down about 20 enemy targets, but debris fell in several districts. Earlier, the city authorities reported seven injured.
Find out more about the consequences of the enemy attack on September 21 in our material.