Killing 'birds': Evolution of Ukrainian battlefield drones manufacturing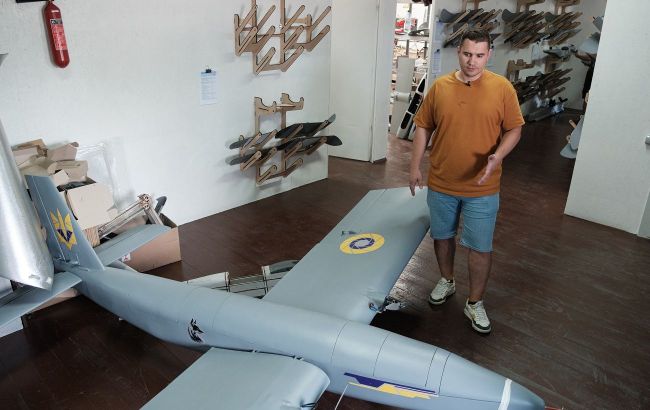 Photo: Prototype of an Airlogix strike drone (Vitalii Nosach/RBC-Ukraine)
After the start of the Russian Federation's invasion of Ukraine, the need for drones by the Armed Forces increased a hundredfold, if not a thousandfold. The military needs reconnaissance, kamikaze, and combat UAVs literally every day. In Ukraine, more than 200 companies are already producing the majority of contracted drones - Kazhan (Bat), R-18, Vampir, Punisher, and others with the assistance of state programs and charitable funds.
RBC-Ukraine visited one of the drone production facilities and saw how UAVs for the Armed Forces are produced.
"Each aircraft is like a Rolls-Royce"
In 2021, Ukrainian Vitalii Kolesnichenko founded the startup Airlogix. The designers quickly began to enter foreign markets: they participated in an exhibition in the USA, where investors became interested in them. One Western medical company wanted to use drones to deliver blood samples.
However, everything changed from the first days of the Russian invasion of Ukraine: the company decided to quickly change its focus and threw all its efforts into the production of reconnaissance drones and the development of other drones that would help bring us closer to victory in the war.
Now, in the premises of the enterprise, which outwardly resembles an ordinary workshop, more than 50 people work: from engineers to specialists who design, assemble, and test drones. The main building where all the elements of the drones are physically put together is a composite materials workshop.
"Here, elements and bodies of drones are manufactured - they are made of composite materials. We use carbon, kevlar, fiberglass, and other components. The task is to make the drones strong and lightweight at the same time," says Vitalii Kolesnichenko, CEO and founder, to RBC-Ukraine.
After the full-scale invasion, the Airlogix team developed and created reconnaissance UAVs Hor (Horus) for ground troops. Thanks to state programs, the initiative of the Ministry of Digital Transformation, and the UNITED24 fund, the company was able to secure a government order for the production of such drones.
Now reconnaissance drones designed for reconnaissance and artillery correction at altitudes of up to 3,500 meters are actively used by the Ukrainian Armed Forces. The operational radius of such UAVs is 40 kilometers. According to Vitalii, such a distance allows the detection of almost all enemy artillery, electronic reconnaissance means, and electronic warfare assets. A complex with three aircraft and a ground station costs $250,000.
In one of the premises of the enterprise, the founder of the company shows another exhibit - a prototype bomber. This UAV has a payload of about 20-25 kilograms. It can fly in an electric version for a distance of 50-60 kilometers. The prototype already has a number - YF 0001.
"When we retrofit it, we will install internal combustion engines on it, which will allow it to fly longer distances. If in one direction, it will be able to cover up to a thousand kilometers, and if in both directions, then 400-450 kilometers. Let's say our aerial reconnaissance detects an enemy ammunition depot. It can then send a drone there, and drop 20 kilograms of explosives on it. And - boom!" he says.
Photo: All elements and bodies of UAVs are manufactured in the composite materials workshop (Vitalii Nosach/RBC-Ukraine)
All UAVs are assembled manually here. Investments could help automate processes and increase production scale, but this depends on state orders, Vitalii notes.
"Each aircraft is like a Rolls-Royce to us. Each one is assembled manually. But if we continue to develop, and the state continues to meet the needs of the Armed Forces in 'birds' in larger quantities, then we can talk about investing in the automation of all processes. This will happen when we know exactly what orders we have for one, two, or three years. This will reduce the cost of production and increase its quantity. And thus, it will meet more of our defenders' needs," he explains.
The company also has several designs of various types of UAVs. In particular, they are currently designing a kamikaze drone that could be assembled by both a school student and an elderly person, following the principle of a constructor. However, to tackle more extensive tasks on the front, larger capabilities and clear guarantees from the manufacturer are required. Some other types of drones being developed at Airlogix cannot be discussed publicly at the moment.
UAVs improved based on the military's wishes
To learn to operate a drone, a lot of practice is needed. Some people join the Armed Forces already having drone piloting skills. However, even then, many aspects need to be learned from scratch: long-distance flights are practiced, anti-drone weapons are mastered, and flying in extreme conditions is learned. They learn to quickly repair breakdowns and protect the "birds."
Military personnel often train for about a month, and then during their service, they undergo additional crash courses to hone their skills. But the most crucial aspect is fieldwork, where defenders gain practical experience. The Chief Designer at Airlogix, Mykyta Vostroknutov, gave lectures on basic aerodynamics concepts at the beginning of the company's operation.
Photo: Engineers design "birds" taking into account the wishes of the military (Vitalii Nosach/RBC-Ukraine)
"The first thing you need to know is why an aircraft flies. Understand the principle of flight itself. Without this knowledge, it's difficult to make decisions in extreme situations on the front. It's also important to know how to fly in different conditions. Against the wind, with the wind, in various weather conditions. It's also important to be able to adjust the autopilot and teach the aircraft to do what you need it to do. This already relates to software. In addition, you need to be able to quickly identify what exactly is wrong with the UAV, and to what extent this malfunction is. And fix it promptly if possible," he says to RBC-Ukraine.
Because there is usually little time to solve such issues on the front, drones are designed to be as user-friendly as possible. Basic repair kits are included with the drones for the military. Thus, some breakdowns can be easily fixed, even without specialized qualifications.
"We make the design more robust, and durable for any conditions in advance. So that you can land in the rain or snow on the ground, on grass, on asphalt. We do everything so that the military can fulfill their tasks. The basis of how we improve UAVs is feedback from the military themselves. They tell us what needs to be improved, and we do it," says Mykyta.
Photo: All elements are assembled manually (Vitalii Nosach/RBC-Ukraine)
The main customer for companies like Airlogix is the state. Although they are focused on state orders, the need for UAVs on the front is constant and acute. Therefore, the team is raising funds for drones for one of the Security Service units that has destroyed the most enemy tanks. The complex requires 5.8 million hryvnias. These needs arise literally every day, so the company calls on people not to forget to donate for the common victory.
"Everything you can imagine unmanned is being produced in Ukraine right now"
Since last year, drone production in Ukraine has advanced so much that it was previously unimaginable, says Vitalii Kolesnichenko. He calls the progress a significant leap forward. Currently, companies across the country are manufacturing drones for the Ukrainian Armed Forces.
"What was before the Russian invasion and what is now - it's like night and day. In Ukraine, a wide variety of drones are being produced, from small to large, from combat to reconnaissance, and relay devices. Everything you can imagine unmanned is being produced in Ukraine right now - ground, marine, and aerial," says the founder of Airlogix.
He emphasizes the significant role played by the government in this progress. They initiated and pushed developers to work faster and with higher quality. To achieve this, Ukraine introduced regulatory acts and resolutions, and provided opportunities for earning and reinvestment, all in order to bring our victory closer, Vitalii underscores.
RBC-Ukraine previously reported on how Ukraine started producing drones for the Ukrainian Armed Forces, what the state and businesses are doing now to scale up their production, and how drones have become a key component of 21st-century warfare.
Photo: Currently, companies across the country are manufacturing drones for the Ukrainian Armed Forces (Getty Images)
In Ukraine, there are indeed around 200 companies involved in drone production, says the Minister of Digital Transformation, Mykhailo Fedorov. According to him, around 40 Ukrainian drones have gone through the process of being put into operation, and companies are receiving government contracts. Ukraine will need drones for many years even after the war ends.
"There will be enough drones only when Ukraine has been standing on the borders of 1991 for at least ten years," says Mykhailo Fedorov.
The Ministry of Digital Transformation is one of the drivers behind the launch of the drone market in Ukraine. Together with the UNITED24 fund, the General Staff, the Ministry of Defense, and the Defense Intelligence, they invited startups that manufacture or design operational-tactical unmanned systems, ammunition for them, or electronic warfare means. Developers are introduced to investors who are ready to finance the best projects for the front.
"No one could have imagined how important the role of drones would be in this war. They are needed everywhere right now. They provide situational awareness. You see what's happening on the battlefield. With drones, you observe, adjust, locate, and eliminate. And most importantly, drones save the lives of our soldiers," says Vitalii.
Photo: The more orders companies have, the faster they will automate processes and reduce the cost of UAV production (Vitalii Nosach/RBC-Ukraine).
Developers acknowledge that Russia has a multitude of relatively inexpensive UAVs that they can use to mass-target our cities. But Vitalii is optimistic and says the advantage will still be on our side.
"Combining hardware and software, thousands of people in Ukraine work every day on creating high-quality UAVs, and their numbers are growing. Ukraine will definitely be the first in this because everything is being done for it. There is infrastructure, there is political will on the part of the state. I am convinced that everyone should know how many different drones we produce so that no one even thinks about attacking us again or continuing the war. Because we will bombard them with drones. Different ones," he adds.
In the meantime, thousands of volunteers across Ukraine are raising money for UAVs for our defenders. As long as the war continues, the need for drones continues to grow.