Wings and eyes of the Ukrainian Armed Forces: How Ukraine started drone production and what hindered it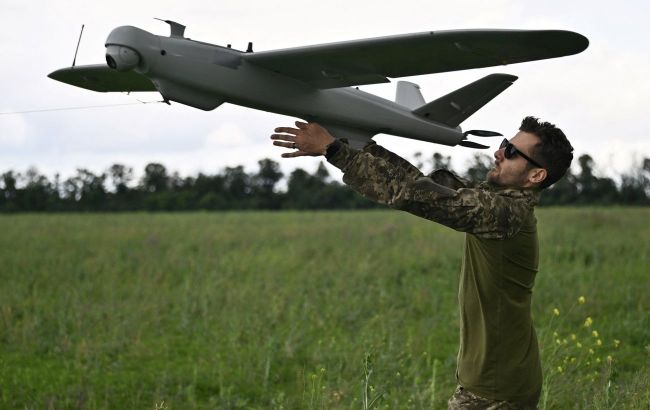 The Ukrainian soldier launches a Leleka (Crane) drone (photo: Getty Images)
RBC-Ukraine explores the issue of what drones the Ukrainian Armed Forces use, what the state and businesses are doing to scale up drone production and procurement, and how drones have become one of the key components of 21st-century warfare.
In October 2021, Ukrainian military forces used the Turkish drone Bayraktar on the battlefield for the first time, destroying the terrorists' artillery. Right from the beginning of the full-scale invasion, everyone was talking about Turkish drones. In the first months of the large war, funds for purchasing Bayraktar for the Ukrainian army were even collected by the Poles. The drone was considered highly effective in combatting the enemy.
A year after the first use of the Turkish Bayraktar in September 2022, the Russians used the Iranian Shahed for the first time, directing it toward the Mykolaiv region. Since then, Iranian UAVs, which the Russians named Geran, have become an integral part of shelling the entire territory of Ukraine, and the whole world saw how drones could change the course of a war.
War of technologies
In the fight against occupiers, Ukrainian military personnel use several types of drones - reconnaissance, kamikaze drones, and combat UAVs. In today's warfare, the use of drones has significantly expanded, notes Yaroslav Oliinyk, an Advisor to the Minister of Strategic Industry of Ukraine.
"Last year's battles were very difficult, the situation was changing, the front was not static, and people were getting killed, including those who were injured and concussed. Now, they are located and aided through drones, medical supplies, and rations are dropped to them to re-establish communication and guide them on where to move," Oliinyk says in a comment to RBC-Ukraine.
Fighter of the Rapid Reaction Brigade of the National Guard of Ukraine "Rubizh" with a call sign "Otchenash" (Photo: Brigade Press Service)
Drones have significantly eased military tasks. Just a few decades ago, an artillery spotter had to climb to a high vantage point, set up a compass, and use it to adjust the artillery fire. Reconnaissance units would, at the same time, visually monitor the enemy, crossing the front lines on foot to estimate the approximate number of enemy troops and equipment. Nowadays, all of this is the work of drones and UAV operators.
With the help of UAVs, the military also destroys equipment and enemy combatants, assists their comrades, and even takes prisoners, explained aerial reconnaissance fighter Andrii Otchenash. "I operate FPV and Mavic drones. Currently, they are divided into two types - long-range and short-range. Essentially, long-range includes anything with wings, which means they can fly for hundreds of kilometers. There are those that conduct local reconnaissance," Andrii notes.
In the first months of the full-scale invasion, society knew what a Bayraktar was, but hardly anyone could name 5-10 other drones. Nevertheless, various types of drones were needed, and the military, along with volunteers, regularly emphasized this need. Ukrainian manufacturers developed their own drones - Kazhan (Bat), Vampir (Vampire), Leleka (Crane), octocopter R-18, Punisher, COBRA, RAM II UAV. However, drones are not produced and still do not meet the army's needs to the extent required.
"We need a large number of drones. We need reconnaissance drones, we need bombing drones, we need kamikaze drones, i.e., FPV. Today, in the field of copters, the Russians have made significant progress compared to us," says Andrii Otchenash.
Volunteers and businessmen began actively purchasing various drones to supply the Armed Forces. Mavic, a product of the Chinese company DJI, gained particular popularity. Like other relatively inexpensive reconnaissance drones, it appears to be considered as expendable material, but for such "wastefulness," there are still too few Chinese "Mavics."
Due to the high demand for Mavic at the end of 2022, a scandal even erupted - Defense Minister Oleksii Reznikov, responding to complaints from volunteers, referred to Chinese drones as "wedding drones." Later, the ministry clarified that the minister understands the front's need for Mavics, but drones themselves are not procured by the state due to a reluctance to spoil relations with the United States.
The legal environment in which manufacturers operated at the time of the Russian invasion did not support either business development or scalability. Companies found themselves in a situation where any of their steps were either taxed, stretched over time, or unprofitable. One of the most striking examples is the regulation on the maximum allowable profit for the production of drones with imported components - no more than 1%. This is despite the fact that 90% of the components in Ukrainian drones are foreign-made, says Vitalii Kolesnichenko, the CEO of Airlogix.
"We have no problem finding components abroad, and in Ukraine, there is nothing. Everything is from abroad - all materials, all components, all electronics. If it is purchased in Ukraine, it was purchased from abroad. Only the bodies are made in Ukraine," Kolesnichenko says in a comment to RBC-Ukraine.
Within the framework of the maximum profit limit, manufacturers earned very little from the sale of their products. If there is no profit, there is no expansion of production, development, investors, and financial motivation, says another expert to RBC-Ukraine.
"The 1% was there because, working with the state, you can't make money. How is that, you work with the state, how did you earn something from the state, it's immoral. Of course, this is sarcasm, but that's how the state positioned itself. By the way, now this is happening with everything that does not concern drones. If we talk about technological systems, EW, radar, air defense - you can only work with 1% on components," says the manufacturer, who preferred not to disclose his name.
Importing components was also previously subject to VAT, and the entire process from drone production to deployment took about two years due to the large number of permits. In other words, manufacturing UAVs in Ukraine was unprofitable and difficult, even given how necessary drones are for the army. All this bureaucracy has led to the fact that now only 10% of drones used by the Armed Forces of Ukraine are of Ukrainian production, and 90% are imported.
Debureaucratization
Only since the beginning of 2023 have there been changes in the regulatory documents regarding UAV production. Changes were made to the Cabinet of Ministers' resolution, reducing the time for the introduction of new drones into operation from two years to 3 to 5 weeks. In the large package of permits, only the most necessary ones were left. Import from Poland was simplified, and VAT and import duties on components were abolished.
But perhaps the most important change for manufacturers is the increase in the allowable profit from 1% to 25%. For Ukrainian companies, this step became a "magic wand," as Kolesnichenko calls it. "In addition to obvious motivation, we have motivation for business to work and reinvest, improve, create new things, and make money. Now everyone sees that this is not just a story about cost and breaking even, it has potential," Kolesnichenko notes.
After the changes were made, Airlogix, which produces reconnaissance drones, began negotiations with foreign investors. By signing a contract with the Ministry of Defense for the production of drones, the company will be able to grow. "Investors are ready to invest money. These are indirect investments, but it's money that goes to Ukraine," Kolesnichenko adds.
A Ukrainian military launches a reconnaissance drone (photo: Getty Images)
One of the driving forces in the industry, as acknowledged by the manufacturers themselves, has been the Ministry of Digital Transformation and their project "Army of Drones." Today, drones are ready to be produced by hundreds of Ukrainian companies, according to the Minister of Digital Transformation, Mykhailo Fedorov.
"Together with UNITED24 and the state program, most of the contracted drones are of Ukrainian production, such as Vampir, Kazhan, R-18, and many others, the names of which we would prefer not to disclose. In total, there are about 200 Ukrainian companies producing UAVs today," Fedorov states in a comment to RBC-Ukraine.
According to the manufacturers, the entire process from ordering a drone to its transfer to the front lines takes about three months today. However, this applies to situations where drones are purchased by volunteers, as they do it for specific needs. When it comes to the state, the timelines may be extended, and drones might spend some time in storage.
Mykhailo Fedorov (photo: Vitalii Nosach/RBC-Ukraine)
Volunteers most often search for drones abroad. Today, according to Bohdan Ostapchuk, the project coordinator at the Serhiy Prytula Charity Foundation, the state's requirements are quite objective, but there are some issues. The purchase itself does not happen in a "money-goods" scheme. The retailer, a retail company, must also provide its founding documents.
"There were bizarre cases where contractors had to spend several days looking for an ink stamp that they forgot about right after receiving it and never used it because Western companies don't operate like this. Here, they want to buy, but they also need to prepare some documents. With old partners, this is already understood, but with new ones, you have to go through all this," Ostapchuk says.
Today, both local manufacturers and large volunteer organizations express positive opinions about the current changes. However, the processes that were not started 30 years ago, while needed today, are unlikely to be timely. Changes in customs duties were only introduced in February 2023, increasing the profit share from 1% to 25% in March. Meanwhile, the full-scale invasion has been ongoing for over a year and a half, and the war has been ongoing for nine years.
"We will have enough drones only when Ukraine stands on the borders of 1991 for at least 10 years. That's why we continue to do everything possible to have more drones on the front lines," Fedorov notes.
Iranian and Chinese technologies in the Russian arsenal
While Ukrainian volunteers and manufacturers are searching for opportunities to purchase and manufacture the maximum number of drones, the Kremlin is utilizing established connections. According to information from The Washington Post, by 2025, Russia plans to produce around six thousand Shahed drones within the Alabuga Special Economic Zone in Tatarstan. Moreover, according to Ukrainian military intelligence, Russians plan to release approximately 1300 Shaheds in the second half of this year alone.
China actively assists Russia with drones, at least according to Politico. According to their information, Russia has imported drones from China worth $100 million, which is 30 times more than what was imported from this country to Ukraine. Sanctions imposed on Russia, though slowing down its production and acquisition of new technologies, do not entirely halt it.
Ukrainian soldiers display a captured Shahed, which the Russians have named Geran (photo: Vitalii Nosach/RBC-Ukraine)
"Russia is a thieving country; they can steal, snatch, and simply copy. Sanctions are already in place against them. We cannot do the same because we are a civilized, democratic state," says Yaroslav Oliinyk.
Beijing's cooperation with Moscow has a noticeable impact on the Mavics market. Ukrainian volunteers acknowledge that purchasing a large number of drones from retailers is difficult. According to unconfirmed information, China may restrict the batches it supplies, especially to Eastern Europe.
"This is an indirect, unofficial policy. You can't say the Communist Party explicitly said it, but we all know the Communist Party did. Instead of sending 10,000 drones to some retailer, they will send batches of a thousand drones at a time," one of the experts mentions.
For this reason, Ukrainian manufacturers today try not to depend on China and seek necessary parts in Europe or the USA to avoid becoming hostages to Chinese suppliers in the future.
Receiving relatively cheap combat drones from Iran and a large number of reconnaissance UAVs from China, Russia currently clearly leads in the "drone race."
"We need to be honest; Russia is a formidable adversary, they also have intelligent engineers, companies, and a defense-industrial complex. We shouldn't underestimate them, but we also shouldn't panic and say, 'Oh, it's all over, the Russians are using Mavics, FPVs, Shaheds, and we're not doing any of this," says Ostapchuk.
Looking at the UAV situation in Ukraine solely from a critical perspective is also incorrect, say the experts in a conversation with the agency, who are involved in procurement and drone production. An important indicator is the UAV strikes that have become more frequent, even in Russia. The first attacks in the center of Moscow surprised both Ukrainians and the West, but today, these strikes have become regular. This also applies to attacks by underwater drones on the Crimean Bridge.
All of this suggests that drones are not just helping to save the lives of Ukrainian soldiers. Equally important is their ability to effectively demonstrate the closeness of war to Russians. Even seemingly insignificant combat achievements, such as strikes on Moscow, can have a powerful moral effect. Sirens, explosions, and sleepless nights may make Russian residents view their government's actions differently.
The war in Ukraine against Russian occupiers is a battlefield where many things are happening for the first time. Mainly, it is on the Ukrainian front that equipment that has not previously participated in combat is being used. This technology is changing the course of battle, and drones are one of the key components of 21st-century warfare.