Zelenskyy urges Stoltenberg to convene NATO-Ukraine Council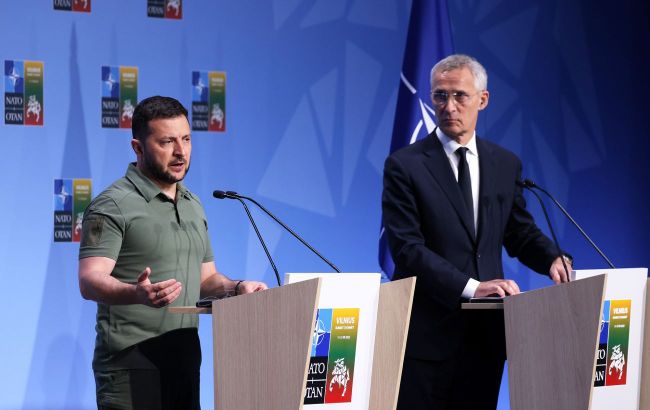 Ukrainian President Volodymyr Zelenskyy and NATO Secretary General Jens Stoltenberg (Getty Images)
Ukrainian President Volodymyr Zelenskyy held talks with NATO Secretary General Jens Stoltenberg, urgently requesting the convening of a Ukraine-NATO Council, reported the president in his video address.
"We discussed with Mr. Stoltenberg our steps to unblock and ensure the stable operation of the grain corridor," Zelenskyy revealed.
He reminded that Ukraine has moved to a new, higher level in its cooperation with the Alliance - the level of the Ukraine-NATO Council.
"And this mechanism can work. I turned to Jens with a proposal to urgently convene such a meeting of the Council for appropriate crisis consultations. The meeting will take place in a few days. We can overcome the security crisis in the Black Sea," said the head of state.
During today's negotiations, Zelenskyy and Stoltenberg also discussed further actions regarding Ukraine's integration into the Alliance.
Russia's withdrawal from the grain deal

This week, Russian President's Press Secretary Dmitry Peskov announced that his country is withdrawing from the grain deal which allows the export of Ukrainian foodstuffs through the Black Sea. He complained that Russia's purported demands were not being met.
In response to such actions, President Volodymyr Zelenskyy proposed that Turkey and the United Nations continue Ukrainian exports without Russia's involvement. Currently, the Cabinet of Ministers is developing a detailed plan for grain transportation.
Turkish President Recep Tayyip Erdogan said yesterday that he plans to hold negotiations with Russian dictator Vladimir Putin to discuss the extension of the grain deal.
Following this, Erdogan discussed the grain deal with Ukrainian President Zelenskyy.
Zelenskyy revealed that during the conversation with Erdogan, he also thanked him for the fruitful meeting in Istanbul on July 7 and Turkey's strong stance on Ukraine's NATO membership.
The Ukrainian president also requested Erdogan's assistance in facilitating the return of Ukrainian prisoners, including Crimean Tatars.