Zelenskyy and Erdogan discuss grain deal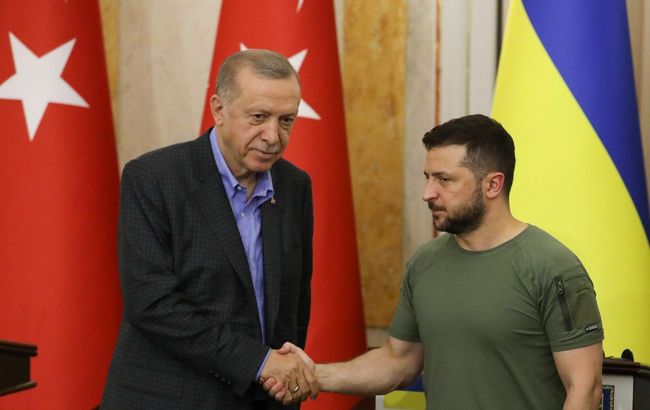 President of Turkey Recep Tayyip Erdogan and President of Ukraine Volodymyr Zelenskyy (Getty Images)
President of Ukraine Volodymyr Zelenskyy and his Turkish counterpart Recep Tayyip Erdogan discussed the grain deal, according to Hurriyet.
Zelenskyy initiated a phone conversation between the leaders. During the talks, they focused on the details of the grain deal.
Erdogan stated that his country is committed to making extreme efforts to achieve peace in the region.
Zelenskyy's negotiations with Erdogan come after Russia's withdrawal from the grain deal, in which Ankara was also involved.
During the conversation, Zelenskyy thanked for the fruitful meeting held in Istanbul on July 7th and Turkey's principled position regarding Ukraine's NATO membership.
"We have coordinated efforts to restore the operations of the Black Sea Grain Initiative. Unlocking the "grain corridor" remains an absolute priority," Zelenskyy stated.
He also asked Erdogan to support the return of Ukrainian prisoners, including Crimean Tatars.
Russia's withdrawal from the grain deal
Earlier this week, Russia announced that it was leaving the grain deal, which allowed the export of Ukrainian food through the Black Sea.
In response to Russia's actions, Zelenskyy proposed to Turkey and the United Nations that Ukrainian grain exports continue without Russia's participation. Detailed plans for grain transportation are currently being developed by the Ukrainian government.
Furthermore, Erdogan revealed his intentions to talk with the Russian leader, Vladimir Putin, in order to discuss the expanding of the grain deal.