Zelenskyy comments on increase in grain transit through Romania, Bulgaria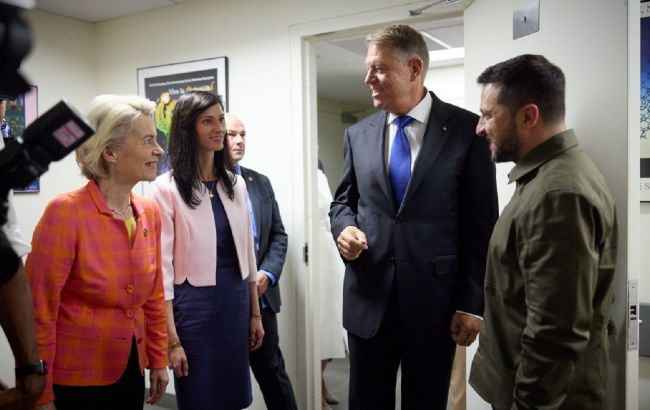 Volodymyr Zelenskyy held talks with Ursula von der Leyen, Klaus Iohannis, and Maria Gabriel (photo: president.gov.ua)
President of Ukraine Volodymyr Zelenskyy discussed the issue of free access for Ukrainian agricultural products to the EU market with the President of the European Commission Ursula von der Leyen, the President of Romania Klaus Iohannis, and the Minister of Foreign Affairs of Bulgaria Maria Gabriel, according to the press service of the President of Ukraine.
These negotiations took place on the sidelines of the 78th session of the United Nations General Assembly in New York (USA).
"We have established a joint coordination platform for the export and transit of Ukrainian agricultural products. This platform will continue to work and contribute to resolving all problematic issues in the agricultural sector," said Zelenskyy.
The President also emphasized that Ukraine, as a future EU member, should work together to ensure the ongoing liberalization of trade and "prevent any unilateral restrictions."
"Together with Romania and Bulgaria, we are exploring ways to increase transit through the 'Solidarity Routes.' It is through the territory of Romania that more than 60% of Ukrainian grain transit, passing through the 'Solidarity Routes' of the EU, is ensured," Zelenskyy noted.
Furthermore, he added that Ukraine, the EU, Bulgaria, and Romania discussed alternative routes that would "significantly increase transit while simultaneously reducing the burden on the Romanian and Bulgarian domestic markets."
Humanitarian "grain corridor"
Last month, Ukraine announced the creation of a "humanitarian corridor" in the Black Sea to release ships that had been stuck in its ports since Russia's invasion in February 2022 and to bypass the effective blockade after Russia withdrew from the agreement on safe grain exports.
According to Bloomberg, after the first grain-laden vessel left the Ukrainian port of Chornomorsk, global wheat prices decreased.