Why Russians did not launch missile strikes from ships for long time - Ukrainian Navy explains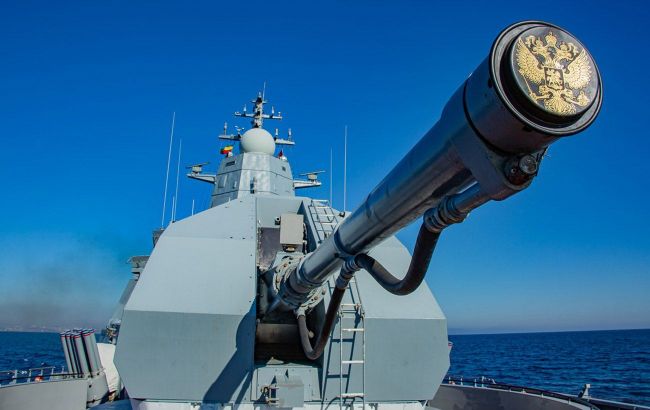 Russian Black Sea Fleet does not launch missile strikes due to redeployment of fleet (Photo: facebook.com/mod.mil.rus)
Russian invaders have been compelled to relocate missile carriers from temporarily occupied Crimea to Novorossiysk. However, Novorossiysk cannot load Kalibr cruise missiles onto ships for strikes, according to a representative of the Ukrainian Navy, Dmytro Pletenchuk.
The officer noted that the logistics required for loading missiles and servicing the Russian Black Sea Fleet's ships remain in the occupied Sevastopol.
"You see such a significant pause in the use of missiles because now the enemy is facing a logistics problem," explained Pletenchuk.
The Ukrainian Navy emphasizes that the interventionists cannot load Kalibr-type missiles in the Russian city of Novorossiysk. If this problem is not resolved for the enemy, they cannot launch attacks from the sea.
"They need to go to Sevastopol to reload. And that is dangerous for them," added Pletenchuk.
He also mentioned that Russian forces continue to accumulate missiles for attacks on Ukraine, explaining the pauses the Russians are forced to endure between their strikes, as the Russian defense industry cannot quickly supply the required amount of weaponry.
Earlier, a representative of the Ukrainian Navy, Dmytro Pletenchuk, revealed that due to the recent successful strike on the Russian corvette Askold in the occupied Kerch, the Russians had to take an "operational pause."
Strikes on Russian ships
Last week, the Ukrainian military conducted several successful operations to destroy Russian ships in the Black Sea.
On November 4, the Defense Forces targeted the shipyard Zatoka in Crimea. The attack damaged the corvette Askold, equipped with Kalibr missiles, which the occupiers planned to launch and introduce into the Black Sea Fleet in December.
The Strategic Communications Department of the Chief of the General Staff of the Armed Forces of Ukraine showed photos of the aftermath. The footage revealed significant damage to the enemy ship Askold. According to available information, the Russian vessel suffered extensive damage and may not be repairable.
Additionally, on November 10, the Main Intelligence Directorate conducted a successful special operation in Crimea. Two small landing ships were hit in the town of Chornomorsk, and losses among Russian personnel are being clarified.
Later, the Main Intelligence Directorate confirmed that on November 10, an operation using surface drones was conducted. One older project, an 1176 Shark ship, and another newer project, a 11770 Serna, sank.