What the UN Secretary General offered Russian Minister for returning to grain deal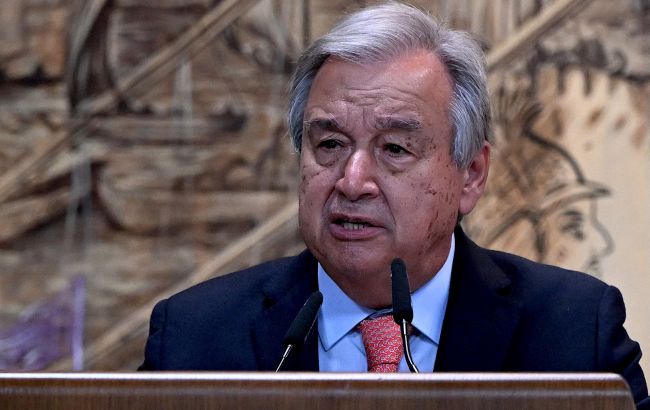 UN Secretary-General Antonio Guterres (Photo: Getty Images)
UN Secretary-General Antonio Guterres has sent a letter to Russian Foreign Minister Sergey Lavrov with four proposals in exchange for Russia's participation in the grain deal, according to Bild.
Journalists claim that Guterres sent this letter to Lavrov on August 28, which "shows how far the UN is willing to go to restore the Black Sea grain initiative with war instigator Putin."
In the letter, Guterres offers "four specific cornerstones of an agreement between the UN Secretariat and Russia" to lead to the revival of the Black Sea Grain Initiative.
The first proposal is the return of the Russian state bank to SWIFT
According to Bild, Guterres allegedly proposed to Lavrov to lift the financial sanctions imposed by the European Union on the Russian Agricultural Bank in June 2022. Specifically, the UN Secretary-General suggests using a specially created subsidiary of the sanctioned Russian bank named RSHB Capital SA to bypass sanctions, and this company will be connected to SWIFT.
The second proposal is insuring Russian ships against Ukrainian attacks in the Azov and Black seas
In the second point, Guterres "seriously suggests" to Lavrov to insure Russian ships against Ukrainian attacks in the Azov and Black Seas.
"A jointly financed UN insurance company for the export of Russian food products and fertilizers can start working with Lloyd's within 4-6 weeks," the letter states.
Furthermore, journalists report that the UN is ready to consider cargo insurance and "casco and P&I" insurance.
The third proposal is helping Russia unfreeze assets
UN Secretary-General allegedly offered Lavrov assistance in unfreezing assets of Russian companies in the EU frozen due to sanctions.
"The UN can continue to help unfreeze assets of Russian fertilizer producers in the EU," the letter states, asking Lavrov to provide a list of specific accounts or assets. Based on these requests, Guterres promises that the UN will work with the relevant EU authorities.
The fourth proposal is allowing Russian ships back into EU countries
According to Bild, Guterres allegedly offered to "ensure effective access for Russian vessels carrying food products and fertilizers to EU ports through expedited port permits."
For this purpose, representatives of Guterres at the UN have already held talks with the European Commission and specific port authorities (Germany, Belgium, Spain, the Netherlands), according to journalists.
The UN Secretariat has not responded to journalists' inquiries about this letter.
According to Bild, Russia is currently studying Guterres' proposals. It has not yet agreed to them, as the Kremlin considers them "too good to be true" and doubts their "technical feasibility."
Grain deal
In July this year, Russian terrorists withdrew from the grain deal, citing alleged non-compliance with its terms. After that, the occupiers began shelling Ukrainian ports and grain infrastructure south of Ukraine.
In early August, Ukraine announced the opening of temporary corridors for merchant ships in the Black Sea.
Meanwhile, Turkish President Recep Tayyip Erdogan promises good news regarding the grain deal despite failed negotiations with Russian dictator Vladimir Putin.