Ukrainian troops eliminate nearly 300 Russians, 47 units of eqpt on Tavria front in a day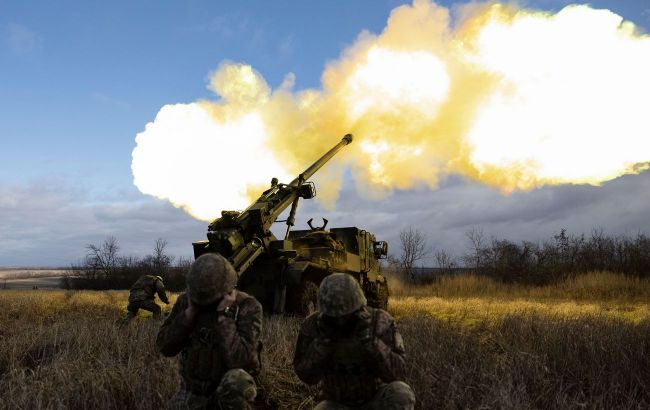 Ukrainian soldiers (Getty Images)
Ukrainian defense forces continue their defensive operations in the south of Ukraine and their offensive operation on the Melitopol front. Ukrainian soldiers are eliminating the enemy, liberating temporarily occupied territories step by step, and securing achieved positions.
During the past day, the enemy conducted 21 airstrikes, engaged in 19 combat clashes, and launched 819 shelling attacks, using tanks, multiple rocket launch systems, and small arms artillery. There is still a high threat of the enemy employing missile weapons and drones against military and civilian infrastructure.
In the area of responsibility of the Tavria troops on the Maryinka front, the enemy conducted unsuccessful offensive actions in the Maryinka area of the Donetsk region. Over the past day, the enemy made more than 10 unsuccessful attempts to displace units of the Armed Forces of Ukraine from their positions.
On the Avdiivka and Shakhtarsk fronts, the Ukrainian defense forces keep the initiative, pressuring the enemy and gradually reclaiming Ukrainian land.
On the Melitopol front, the enemy's attempts to regain lost positions in the Robotyne area of the Zaporizhia region were unsuccessful. The Ukrainian Armed Forces continue to hold the defense on achieved frontlines, causing losses to the occupying forces in personnel and equipment, and draining the enemy.
Enemy losses
The missile and artillery units of the Defense Forces on the Tavria front carried out 1,123 fire missions during the day.
The total enemy losses amounted to 293 individuals (killed - 105, wounded - 184, captured - 4).
Additionally, Ukrainian fighters destroyed 47 units of enemy military equipment, including 9 armored vehicles, 11 artillery systems and mortars, 20 UAVs, 7 units of automotive equipment, and 2 units of special equipment.
Furthermore, 4 ammunition depots and 2 other significant enemy objects were destroyed.
Frontline situation
According to the General Staff, the Ukrainian Armed Forces continue to advance on two fronts and have repelled more than 10 enemy attacks in the Maryinka area. There were 35 combat clashes over the past day.
Russia continues to send conscripts to temporarily occupied territories. Notably, during a successful advance south of Bakhmut in the Donetsk region, the Ukrainian Armed Forces defeated elite units of the occupiers, as reported by the Institute for the Study of War.
In the past day, Russian forces also attacked positions of the Ukrainian Armed Forces in an attempt to regain previously lost positions near Andriivka, Robotyne, and Klishchiivka.
On Tuesday, September 19, Russia's losses in the war in Ukraine amounted to 520 occupiers, with a total number of Russian military losses since the beginning of the invasion being 273,460 servicemen. In addition, the Ukrainian Armed Forces have destroyed 35 artillery systems, 15 drones, and 17 missiles.