Ukrainian rescuers change river course in Slovenia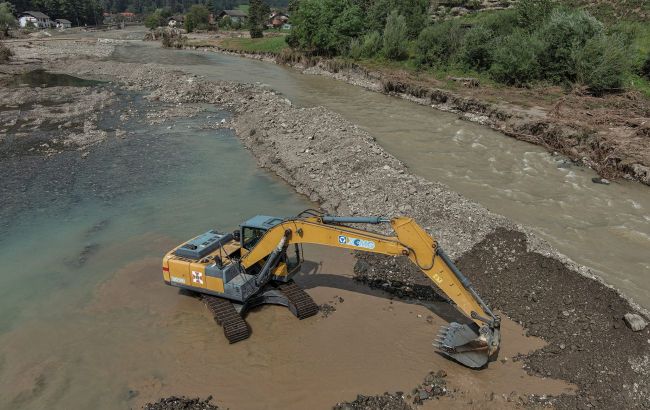 Ukrainian rescuers in Slovenia alter river flow direction (photo: facebook.com/MNS.GOV.UA)
Ukrainian rescuers in Slovenia redirect river channel on a section of the Savinja river during restoration works following a major flood, according to the State Emergency Service of Ukraine on Facebook.
"This was the main task at one of the locations. The work was conducted to reinforce the opposite bank against further erosion and displacement, thereby preventing the destruction of residential buildings," noted the State Emergency Service.
It is reported that Ukrainian specialists worked for five days. Using excavators, approximately four thousand cubic meters of stone, sand, and silt were relocated within the riverbed.
In total, since the commencement of operations in Slovenia, Ukrainian State Emergency Service experts have cleared 870 meters of the riverbed, constructed over 200 meters of embankment, and reinforced nearly 500 meters of the shoreline."
In addition, the rescuers assisted local residents in dismantling a house and three wooden structures that were destroyed as a result of the flood.
Massive flooding in Slovenia
The heavy rains that struck Slovenia at the beginning of August triggered extensive flooding. The country received between 100 to 200 mm of rainfall, leading to widespread inundation in central and northern regions. Rivers overflowed, landslides were reported, and entire towns were left without electricity.
Oleh Nikolenko, a Spokesperson for the Ukrainian Ministry of Foreign Affairs, stated that Ukraine was prepared to provide a helicopter to Slovenia for conducting rescue operations due to the massive flooding in the country.
Subsequently, over 50 Ukrainian rescuers were dispatched to Slovenia to carry out restoration work.
For more details about the devastating flood in Slovenia, read the article by RBC-Ukraine.