Ukrainian Navy announced number of Russian missile carriers in the Black Sea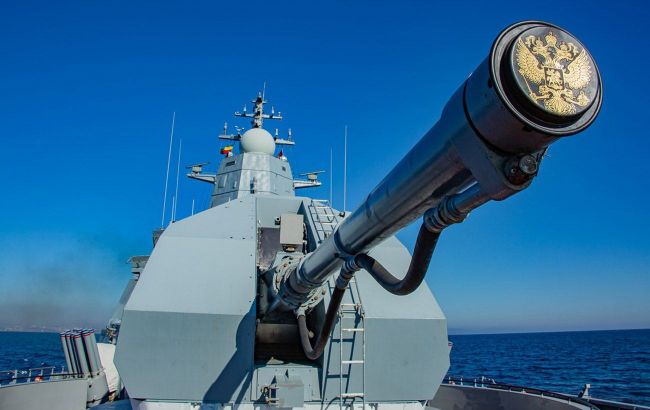 Russian Navy ship (Photo: facebook.com/mod.mil.rus)
The Russian Navy has placed nine ships on high alert in the Black Sea and the Sea of Azov. Of those ships, three are missile carriers, capable of firing up to 24 Kalibr cruise missiles in total, according to the Ukrainian Navy.

As of Wednesday morning, November 8, the military reports that all missile-carrying enemy ships are present in the Black Sea.
The Navy confirms eight vessels from the Russian Black Sea Fleet, including three Kalibr cruise missile carriers, sighted in the Black Sea. In addition, one enemy ship is in the Sea of Azov, and another is in the Mediterranean.
The Operational Command South press service reports a very high level of missile threat and urges citizens to take cover immediately in case of an air alert.
Additionally, the Navy's report indicates that 5 vessels traveled to the Azov Sea, none of which were moving from the Bosphorus, and 16 vessels traveled to the Black Sea, with 6 continuing in the direction of the Bosphorus, all in favor of the Russian Federation during the day.
"The Russian Federation is still violating the 1974 International Convention for the Safety of Life at Sea (SOLAS) by disabling automatic identification systems (AIS)," stated the Navy.
A strike on a newly built Russian missile carrier occurred in Kerch
As a reminder, explosions were heard on November 4 in the temporarily occupied Crimea in Kerch. According to the Ministry of Defense of Ukraine, the Zaliv shipyard in Crimea was attacked by the Ukrainian military.
It has been reported that the attack caused significant damage to the Kalibr carrier ship Askold, and the latest information suggests that the vessel might be extensively damaged and in need of repair.
Read more about the attack in RBC-Ukraine's article.