Ukrainian Embassy: Turkish media distorted Zelenskyy's words about Israel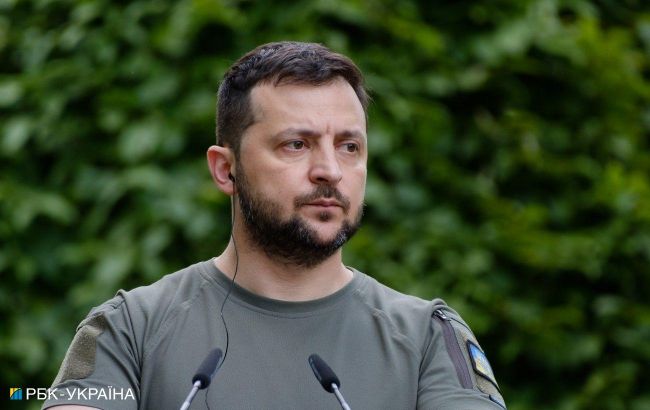 Volodymyr Zelenskyy, President of Ukraine (Photo: Vitalii Nosach, RBC-Ukraine)
Ukrainian President Volodymyr Zelenskyy's statement in an interview with NBC News about Israel's military operation against Hamas militants was distorted by Turkish media and presented with an incorrect interpretation, said the Ukrainian Embassy in Turkiye.
The Ukrainian Embassy in Turkiye responded to the situation, asserting that the Turkish media had misconstrued the President's interview.
The press release stated that the Embassy categorically denies the false information regarding the statements of President Volodymyr Zelenskyy, which the Turkish media is disseminating.
In an interview, President Zelenskyy commented on those who incite hatred and use terror, specifically referring to Russia and Iran. He suggests that both countries have an interest in escalating conflicts in the Middle East and dragging other nations into it.
According to the Ukrainian Embassy, the President of Ukraine identifies these countries as sponsors of terrorism, known to defy international rules and regulations.
The diplomats report the dissemination of fake news online aimed at distorting Zelenskyy's statements and eliciting an adverse response from Turkish society, which Moscow, in particular, is interested in.
The Embassy explains that Russia, the aggressor in the war against Ukraine, desires to divert global attention from the conflict and create strife between Ukraine and its allies.
The Embassy expresses appreciation to Turkiye for its support of Ukraine.
What happened before
Previously, Turkish media released news containing excerpts from President Zelenskyy's interview with the American channel NBC News. In the interview, the Ukrainian President stated that there is an ongoing conflict between Israel and Palestine and certain individuals are exacerbating the situation.
These publications elicited angry comments from Turkish users who may have seen Zelenskyy's words as unsubstantiated blame against Ankara for instigating conflict in the Middle East. Simultaneously, Russian propagandists propagated fake claims in the media.
Turkiye's position on the war in Israel
Turkey has taken on the role of "mediator" in the ongoing conflict. Recently, the President of Turkiye, Recep Tayyip Erdogan, requested that Israel halt its bombing of Palestinian territories, and for Palestinians to halt their persecution of Israeli settlements.
Ankara has officially expressed willingness to mediate in the Israeli-Palestinian conflict in any form, including the exchange of prisoners.
Interestingly, the President of Turkiye recently had a conversation with Russian leader Vladimir Putin, whose government reportedly supports Hamas' actions. Within a day after their conversation, Erdogan released a statement stating that he did not consider Hamas to be terrorists.
Previously, the political analyst provided commentary to RBC-Ukraine outlining the reasons why the Turkish president criticized Israel.