Turkish President doesn't consider Hamas as terrorists, and canceled his trip to Israel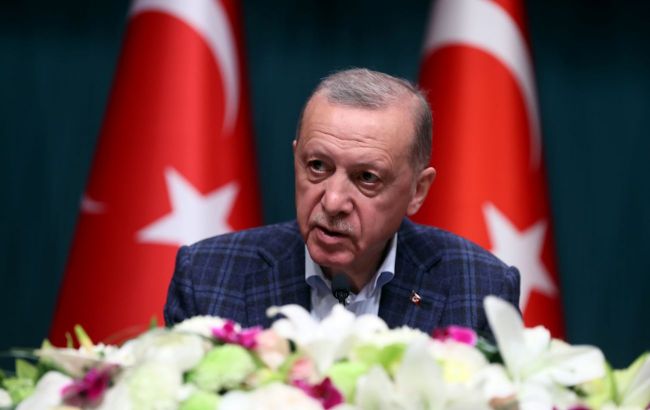 Turkish President Recep Tayyip Erdogan and russian dictator Vladimir Putin (Photo: Getty Images)
Turkish President Recep Tayyip Erdogan has stated that his country does not consider Hamas a terrorist organization. He canceled his trip to Israel and other planned visits by Turkish high-ranking officials, according to Anadolu.
Erdogan commented that he had no issues with the state of Israel. Still, Türkiye has never approved of the atrocities committed by Israel, considering its actions more characteristic of an organization than a state.
The Turkish president believes that "almost half of those who died in Israel's attacks on the Gaza Strip are children."
"Hamas is not a terrorist organization, it is a group of mujahideen defending their lands," Erdogan asserted.
He revealed his plans to visit Israel, but the trip was canceled.
Erdogan cynically added that if the forces Israel currently relies on disappear, the first place the Israeli people will seek trust and mercy will be Türkiye, as it was 500 years ago. He called on all other countries with reason and conscience to exert pressure on the Netanyahu government to bring the state of Israel back to its senses.
Hamas attack on Israel
Recall that on the morning of October 7, the most significant attack by the Palestinian terrorist group Hamas on Israel in recent years began. Militants invaded Israeli territory and brutally killed hundreds of people, taking dozens of hostages. Israel managed to repel the terrorists, pushing them back quickly.
In response, the Israel Defense Forces launched strikes on Hamas targets in the Gaza Strip. It is expected that as part of the operation, there will be a deployment of troops to the Gaza Strip, but currently, this ground operation is being postponed.
It is worth noting that Hamas is designated as a terrorist organization by many countries, including the United Kingdom, the European Union, the United States, Israel, Japan, and Australia.
Türkiye's position
In this conflict, Türkiye decided to be a "mediator." Recently, Turkish President Recep Tayyip Erdogan called on Israel to "stop bombing Palestinian lands, and Palestinians to stop persecuting civilian settlements in Israel."
Official Ankara has expressed readiness for any form of mediation to resolve the Palestinian-Israeli conflict, including a prisoner exchange.
Interestingly, just yesterday, the Turkish president had a conversation with Russian dictator Vladimir Putin, whose regime somehow supports the actions of Hamas. And today, Erdogan made a loud statement that he does not consider Hamas terrorists.