Ukrainian counteroffensive: The National Guard stop occupants' in Siversk sector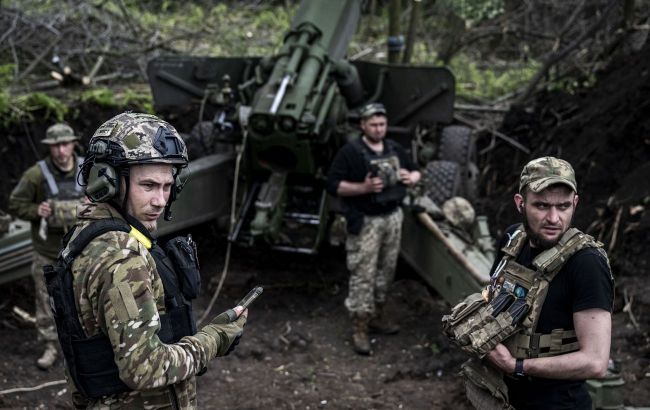 Ukrainian National Guardsmen in the Siversk direction stopped an attempted breakthrough by the occupiers (Photo: Getty Images)
Fighters of the National Guard of Ukraine foiled an attempt by Russian forces to break through in the Siversk direction and destroyed enemy T-90M Proryv tanks, according to the representative of the Main Directorate of the National Guard, Colonel Mykola Urshalovych, during a briefing.
"On the Siversk direction, our soldiers, under constant artillery shelling and airstrikes by the enemy's aviation, are steadfastly holding the defense and repelling the offensive actions of the enemy," said Urshalovych.
During one of the battles, fighters of the units of the 4th Rapid Reaction Brigade "Rubizh," named after Hero of Ukraine Serhiy Mykhalchuk, halted the enemy's attempt to break through our positions.
"After failing in the assault by infantry units, the enemy sent three modern T-90M Proryv tanks. However, they encountered resistance in the Lymansk forests, the breakthrough failed, and the tank crews joined the lists of "good Russians" after the tanks were destroyed by the National Guard using anti-tank weapons," the colonel recounted.
According to him, the tanks were blown up by mines and wholly burnt by the National Guard with the help of anti-tank weapons.
Frontline situation
According to the General Staff, Ukrainian forces continue to attack the area of Bakhmut. Our defenders have also advanced in the village of Staromayorske in the Donetsk region. The Armed Forces of Ukraine are holding their positions, using artillery against identified enemy targets.
As reported by the Institute for the Study of War (ISW), in the past 24 hours, Ukrainian forces launched a significant counteroffensive operation in the western part of the Zaporizhzhia region, utilizing a large amount of military equipment.