Ukrainian Armed Forces destroys nearly 250 Russian soldiers in Tavria direction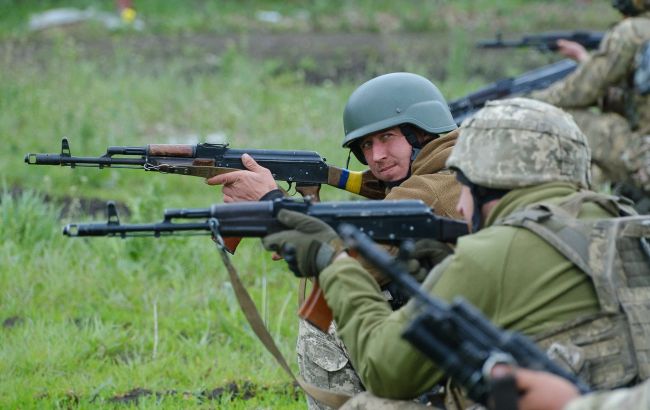 Ukrainian military (photo: Vitalii Nosach, RBC-Ukraine)
Ukrainian defense forces in the Tavria direction inflicted further significant casualties on Russian occupiers in terms of personnel and equipment, eliminating approximately 250 enemy soldiers in a single day, states Oleksandr Tarnavskyi, the Commander of the Operational-Strategic Group of Troops Tavria, on his Telegram channel.
Artillery units of the Defense Forces in the Tavriisk direction carried out 1,328 firing missions within a day.
Over the past day on this front section, the enemy's losses amounted to 249 individuals, including 76 killed, 170 wounded, and 3 taken captive.
In addition, Ukrainian soldiers destroyed 20 more pieces of military equipment belonging to the Russian aggressors, namely:
1 tank,
2 armored personnel carriers (APCs),
5 artillery systems and mortars,
1 anti-tank guided missile system (ATGM),
1 UAV (Unmanned Aerial Vehicle),
10 units of automotive equipment,
1 unit of special equipment.
In addition, our fighters destroyed 2 enemy ammunition depots in this direction.
"In total, over the past day, the enemy attacked our positions 16 times and carried out 688 shelling incidents, including 19 airstrikes," Tarnavskyi said.
Frontline situation on September 3
According to the General Staff, as of the evening of September 3, the Ukrainian Defense Forces continue to conduct a counteroffensive in the Melitopol direction. Meanwhile, Russian occupiers are making unsuccessful attempts to advance on three fronts. In total, there have been more than 25 combat clashes over the course of a day.
As reported by the head of the press service of the Army Group East, Illia Yevlash, Russian forces in the Lyman-Kupiansk direction are attempting to break through the Ukrainian defense, especially in the area of Novoehorivka in the Luhansk region, where the occupiers are trying to create a so-called "corridor."