Ukraine offers Turkey to restore grain corridor without Russia - Ukrainian ambassador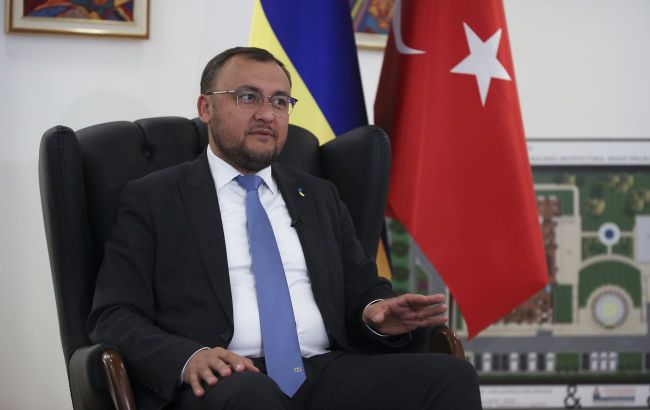 Ukraine's Ambassador to Turkey, Vasyl Bodnar (Photo: Getty Images)
Ukraine's Ambassador to Türkiye, Vasyl Bodnar, stated that Ukraine had approached Türkiye with a proposal to resume the grain corridor operation without Russia, according to Media Center Ukraine.
"The proposal for the operation of the grain corridor without Russia has been conveyed to the Turkish side. There is no final confirmation yet. However, since the ships carrying grain are already passing through the territorial waters of Romania, Bulgaria, and Türkiye without restrictions, this is a rational path," stated the ambassador.
Bodnar reminded that under the agreement, there have been frequent cases where the aggressor country restricted the passage of ships to Ukraine or attempted to regulate access to Ukrainian ports. This included restrictions on the list of products that could be exported from Ukraine.
The ambassador noted that the absence of export restrictions on products for vessels passing through the "grain corridor" could serve as a basis for resolving the situation.
According to Bodnar, communication between Türkiye and the United Nations regarding the results of negotiations between Ukraine and Russia to formulate a coordinated position is ongoing.
Meanwhile, Kyiv is awaiting high-level communication with Istanbul, which may take place in the coming days or possibly within the framework of the UN General Assembly. This is necessary to understand "where we can move forward."
"We, of course, take a constructive position towards our partners, Türkiye and the UN, and intermediaries. We will work out mechanisms to benefit our side but not harm the moral position regarding lifting sanctions against Russia – this is a wrong path," added Bodnar.
Grain agreement
In July of this year, Russian terrorists withdrew from the "grain agreement," citing alleged non-compliance with its terms. Subsequently, the occupiers began shelling Ukrainian ports and grain infrastructure south of Ukraine.
In early August, Ukraine announced the opening of temporary corridors for trading vessels in the Black Sea.
Meanwhile, Turkish President Recep Tayyip Erdogan has promised good news regarding the grain agreement despite failed negotiations with Russian dictator Vladimir Putin.