U.S. and UK working to protect Ukraine's energy system from Russian attacks - U.S. Ambassador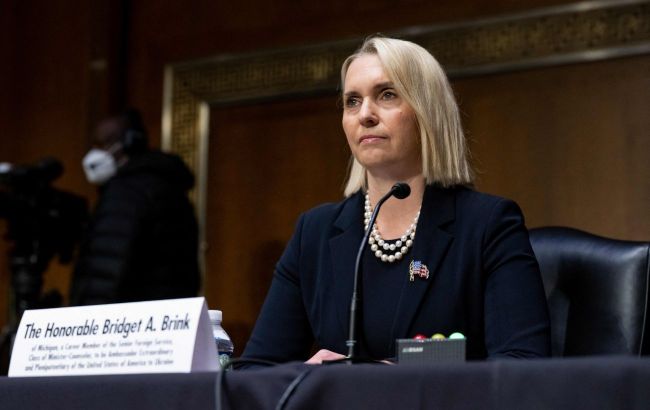 U.S. Ambassador to Ukraine, Bridget Brink (Photo: Getty Images)
The United States and the United Kingdom, in collaboration with Ukraine, are working to enhance the protection of the Ukrainian energy system against barbaric Russian shelling, according to the U.S. Ambassador to Ukraine, Bridget Brink.
"We are working 24/7 to help keep the lights, heat, and power on in the face of Russia's barbaric attacks," she wrote.
Brink posted a photo with Ukrainian officials and announced an "important and productive meeting" with Ukraine's Deputy Prime Minister for Reintegration Oleksandr Kurbakov, the head of Ukrenergo (Ukrainian National Power Company) Volodymyr Kudrytskyi, Head of the State Agency for Reconstruction Mustafa Nayyem, representatives of the Ministry of Defense of Ukraine, and representatives from the United Kingdom "to discuss our joint efforts to protect the energy grid this winter."
Protection against Russian strikes
Earlier, the Representative of the Defense Intelligence of Ukraine, Vadym Skibitskyi, cited the limited capabilities of Ukrainian air defense as one of the reasons why Russia hit the power grid quickly last year.
He believes it will be more difficult for the Russians to achieve their goal now, as Ukraine has a more powerful air defense system. Moreover, energy professionals have been preparing for the restoration of missile and drone attacks by Russian terrorists throughout the year.
Skibitskyi believes that massive attacks this year may resume after the start when electricity consumption reaches peak levels in the fall-winter period. "The Russians are waiting for the temperature to drop below zero," Skibitskyi noted.
The head of Ukrenergo Volodymyr Kudrytskyi, stated that there may be problems related to massive shelling this winter. However, the energy system will not collapse and will continue to operate.