Russia faces challenges causing blackout in Ukraine this winter, energy prepared for strikes - CNN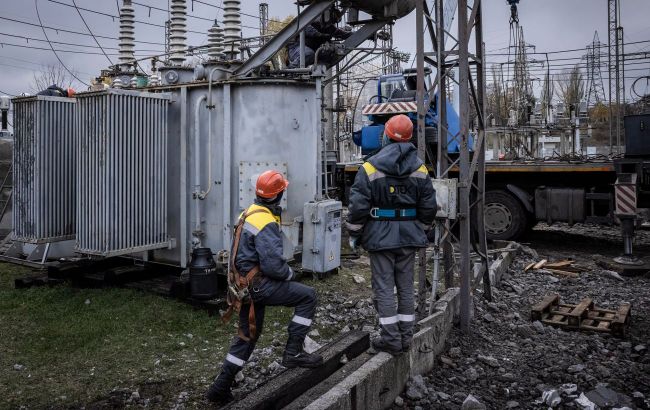 Photo: this winter, it will be more difficult for the Russian Federation to stage a blackout in Ukraine (Getty Images) ​
Ukraine now has a more powerful air defense system. In addition, the energy industry has been preparing all year for renewed missile and drone strikes by Russian terrorists. Therefore, it will be much more difficult for Russia to harm the Ukrainian energy system this winter, reports CNN.
As the agency notes, the representative of the Defense Intelligence of Ukraine, Vadym Skibitskyi, called the limited capabilities of Ukrainian air defense one reason Russia could easily strike the energy network last year. In his opinion, it will be more difficult for the occupiers to achieve their goal now.
"The Russians may use a combination of missile weapons and attack UAVs (unmanned aerial vehicles, or drones). These will definitely not be such primitive attacks as last year. It will be difficult for the Russians to achieve a result - we are also preparing and understanding how they act," he emphasizes.
In addition, the energy industry also did its part, taking advantage of the summer lull when Russian terrorists attacked the grain infrastructure instead of the energy system.
"We restored what could be restored, bought back-up equipment, and installed defenses around power plants. Last winter, determination carried us through. This winter we are stronger, and our people are more experienced," DTEK CEO Maksym Tymchenko tells CNN.
According to him, physical barriers have been installed around the key facilities of the energy distribution network - the so-called gabions, which are sandbags fastened with metal cages, which in theory should protect against missile fragments and kamikaze drones.
"Our goal is to make Russian missile and drone attacks so inefficient that the enemy will give up on this idea. Of course, the key element for energy infrastructure protection is the air defense," "Ukrenergo" CEO Volodymyr Kudrytskyi tells CNN.
In addition, the company prepared reserves of equipment, trained repair crews, and dispatchers to eliminate the consequences of possible attacks, and created backup power supply chains for consumers.
"Ukrenergo" assures that they could eliminate part of last year's damage and are ready to supply the increased volumes of electricity needed for the winter. However, according to Kudrytskyi, it may take years to fully restore the power system.
Ukraine is preparing for attacks by the Russian Federation in winter
On the eve of autumn and winter, Ukrainians are warned about possible new mass shelling by the occupiers. Ukraine's energy sector may become a target of the Russians. Analysts and experts believe that the occupiers will not be able to leave Ukrainians without electricity this winter.
It is known that Ukrainian engineers trained in Britain on the eve of winter. The purpose of the program is to protect the energy industry in case of possible Russian attacks.
At the same time, the Defense Intelligence of Ukraine confirms that Russia is stockpiling missiles to repeat massive strikes. But, according to scouts, the scale of shelling will be smaller.