Ukrainian intelligence on when and how Russia could attack Ukraine's energy sector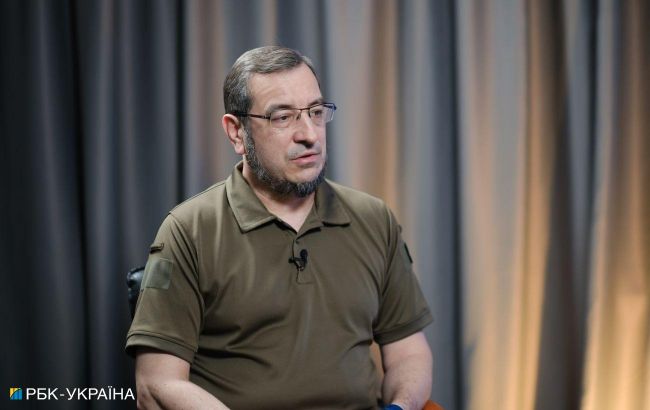 Vadym Skibitskyi, representative of the Main Intelligence Directorate of the Ministry of Defense of Ukraine (Vitalii Nosach, RBC-Ukraine)
Massive attacks on Ukraine's energy infrastructure may begin after the onset of cold weather. These attacks will not be as primitive as last year's, according to General-Major Vadim Skibitsky, a representative of the Ukrainian Ministry of Defense's Main Intelligence Directorate, in an interview with RBC-Ukraine.
He mentioned that it is currently hard to predict whether there will be more missile or drone attacks. Likewise, it is difficult to anticipate the tactics and schemes of potential attacks on the energy system.
"The attacks could take various forms. They may involve exclusively missile strikes of different types, or they may be combined strikes using both missiles and drones. However, according to military intelligence estimates, these attacks will definitely not be as primitive as last year's," explained the representative of the Main Intelligence Directorate.
According to the report, analysts and experts suggest that the Russians will resort to combined strikes involving drones, cruise missiles, and ballistic missiles. Last autumn and winter, the adversary used very few ballistic missiles for attacks on the energy infrastructure, except for the Kh-22 and S-300. Considering the strengthening of the Ukrainian air defense, ballistic missiles could become more prominent in missile salvos.
However, according to the Main Intelligence Directorate's assessment, the enemy is likely to use more cruise missiles, such as the Kh-101, Kh-555, and Kalibr, rather than ballistic missiles. The fact that Russia has not used these missiles since September 25 may indicate their accumulation.
Winter attacks
Last year, the Russians initiated attacks on energy infrastructure on October 10, allegedly in response to a Security Service of Ukraine attack on the Crimean Bridge. In reality, the Kremlin used this as a formal pretext, as these attacks had been planned in advance. Effectively, 45% of the missiles launched from October to February were expended by the enemy even before the arrival of winter cold. This is one of the key factors that Moscow is likely to take into account this year. As the temperature drops, the energy system faces increased load, making it more susceptible to damage.
"It is most likely that they will start when there is a higher load on our energy system, creating more favorable conditions for attacks. This can occur during the onset of cold weather when electricity consumption reaches peak levels during the autumn-winter period. The Russians are expecting temperatures to drop below zero," noted Skibitskyi.
Preparing for a challenging winter
Russia actively employed massive attacks on Ukraine's energy infrastructure last year.
Prime Minister Denys Shmyhal announced the establishment of a multi-level defense system for energy facilities ahead of the heating season.
Volodymyr Kudrytskyi, the head of Ukrenergo, said that there might be issues related to mass shelling during this winter, but the energy system will not collapse and will continue to function.