Supplies of shells to Ukraine drop by 30% since Israel-Hamas war - ABC News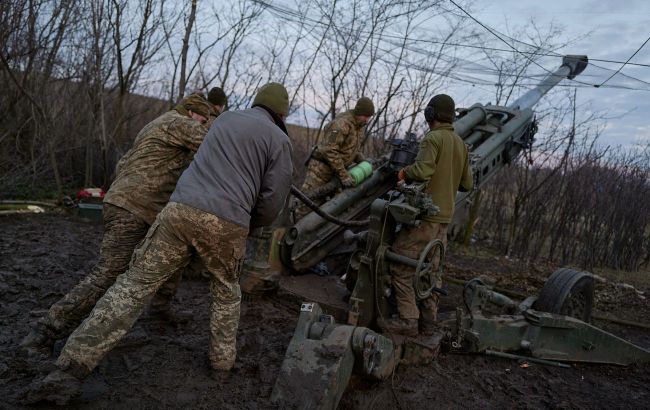 Illustrative photo (Getty Images)
The supply of NATO standard artillery shells from the United States to Ukraine has reportedly decreased by more than 30% since the start of Israel's war against Hamas in the Gaza Strip last month, ABC News reports.
155mm artillery shells are crucial ammunition for Ukraine in its struggle against Russian forces, and a portion of the American supplies intended for Ukraine have been redirected to Israel.
U.S. officials have repeatedly said in recent weeks that the arms supply to Israel will not impact the war in Ukraine.
"They (U.S. officials) were telling us it wouldn't influence the commitments (from the U.S.), but it did," an anonymous Ukrainian official said.
The official disclosed that the stocks of these vital artillery shells constitute about 60-70% of total supplies. Nevertheless, a high-ranking representative of the U.S. Department of Defense stated that the reduction in ammunition has absolutely nothing to do with what's happening in Gaza. The decisions regarding ammunition reductions started "to get put together weeks in advance, so there is no link between what's happening in Gaza to what's happening in Ukraine," the official added.
During his visit to Ukraine, Secretary of Defense Lloyd Austin announced a new $100 million security assistance package, including an unspecified quantity of 155mm NATO standard artillery shells. The latest U.S. military aid package for Ukraine is being funded from previously approved Congressional appropriations, but these funds are running out.
Visit of the Pentagon Chief to Kyiv
During his trip to Ukraine, Pentagon Secretary Lloyd Austin announced a new $100 million security assistance package for Ukraine, including an unspecified number of NATO-standard 155mm artillery rounds. The latest package of US military aid is based on funding already approved by Congress. However, this amount of money is already running out.
Late last month, Pentagon spokesman Pat Ryder said he was confident that the United States would be able to continue to support both Ukraine and Israel.
Despite receiving a wide range of arms from Western partners, Russia reportedly maintains key advantages on the battlefield, such as significant artillery firepower, more explosive unmanned aerial vehicles, advanced weaponry, and a greater number of fighter jets and attack helicopters.
In recent weeks, Russian forces have been trying to steal the initiative on the battlefield by launching significant attacks on Ukrainian positions in eastern Ukraine.
The Commander-in-Chief of the Ukrainian Armed Forces, Valerii Zaluzhnyi, described the war as being at "a stalemate" in the interview for The Economist.
Speaking in Kyiv on Monday, Secretary of Defense Austin emphasized that Ukrainian forces would have the resource for successful military operations in winter.
However, an anonymous Ukrainian official, speaking to ABC News, expressed real concerns about the U.S. arms supply in light of Congressional discrepancies.
"We're in big trouble … basic munitions are not coming," the official said, warning that Ukraine risks losing its position on the battlefield "at a very high price."
The U.S. assistance to Israel after the Hamas attack
On October 22, The New York Times reported that the United States would transfer tens of thousands of 155mm artillery shells promised to Ukraine as part of defensive aid to Israel. Previously, these shells were designated for Ukraine.
Additionally, the U.S. Department of Defense, without publicizing it, increased the supply of military aid to Israel, with ammunition and missiles being transferred almost daily.
Ukrainian President Volodymyr Zelenskyy said that the war between Israel and Hamas has led to a slowdown in the delivery of 155mm caliber shells to Ukraine.