Strike on high-rise building and more: What is known about Russian attacks on Kherson region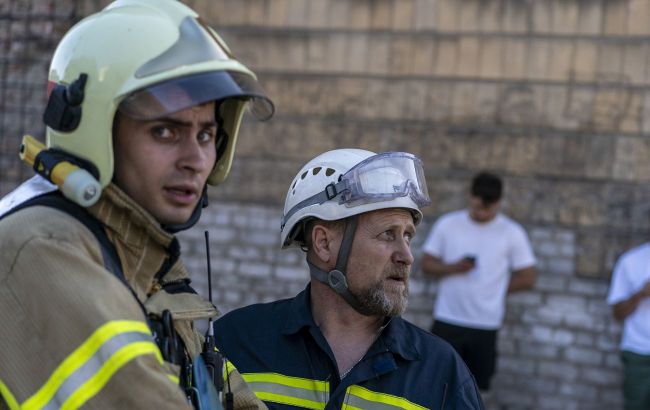 Strike on high-rise building and more: What is known about Russian attacks on Kherson region (Getty Images)
Russian terrorists have been launching attacks on the Kherson region settlements from early hours, resulting in numerous civilian casualties, including fatalities.
All details of today's Russian strikes on the Kherson region are collected in the following RBC-Ukraine report.
Veletenske of Bilozerske community
Around 04.30 am, occupants carried out an attack on the settlement. A 28-year-old man sustained severe injuries, later diagnosed with burns covering 70% of his body - face, torso, arms, legs, and respiratory passages. He is currently in the intensive care unit, with doctors fighting for his life.
Stanislav of Kherson district
The enemy launched an attack with multiple launch rocket systems on the settlement. As a result of the shelling, two men aged 71 and 57 died, and there's also one injured. Additionally, 5 private residential houses were destroyed or damaged.
Shyroka Balka of Kherson district
Due to the shelling, initially, four deaths were reported - two men, a woman, and a child under 2 years old. A 12-year-old boy also sustained severe injuries and was hospitalized in critical condition. Later, it became known that he died in the medical facility.
(t.me/khersonskaODA)
Komyshany of Kherson district
The Russians shelled a shop in the settlement, resulting in a 49-year-old man suffering moderate injuries and a 51-year-old woman sustaining minor injuries.
Zolota Balka of Beryslav district
At least five residential houses were damaged due to the shelling. A 61-year-old woman was injured and taken to a medical facility.
Kherson
As a result of the shelling of the city, there are currently reports of three injured civilians, two of them in critical condition. According to law enforcement, the occupants carried out artillery strikes on residential neighborhoods. In one of the residential areas, a high-rise building was targeted.
(t.me/phogovua)
Beryslav
The enemy conducted two drone drops on the territory of Beryslav Hospital. Further details of the tragedy are currently unknown.