Russians shell residential quarter in Kherson: Casulties reported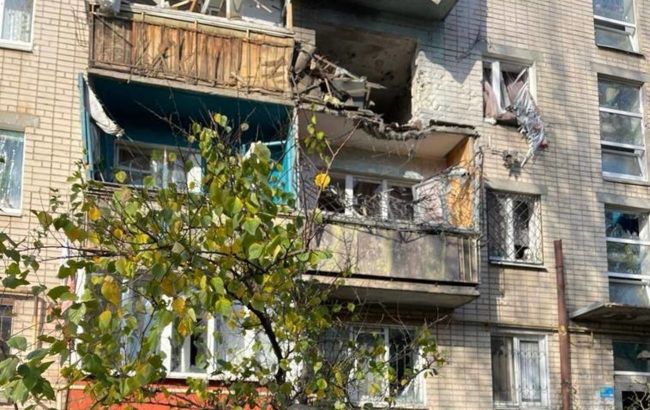 Photo: Russians shelled a residential quarter in Kherson (t.me/Klymenko_MVS)
In the afternoon of November 9, Russian troops once again shelled Kherson. A residential block in the Ship district was affected. As a result of the attack, a resident was killed and there are also wounded, reports the Minister of Internal Affairs of Ukraine Ihor Klymenko.
"Around noon, the enemy shelled a residential block in the long-suffering neighborhood of Ostriv. A 72-year-old resident died," Klymenko said.
Another man was injured and hospitalized. During the shelling, the victim was at the entrance of the house. Also, two civilians received medical assistance at the scene.
In addition, four high-rise buildings, educational institution buildings, and churches were damaged.
Photo: Russians shelled a residential quarter in Kherson (t.me/Klymenko_MVS)
According to the information of the Kherson Regional Military Administration, it revealed about three more victims as a result of the Russian attack on the Korabel microdistrict. Two men, 21 and 64 years old, were moderately injured. They are provided with medical assistance.
A 39-year-old volunteer was also injured as a result of the attack on the educational institution. Now he is also in the hospital.
Shelling of Kherson and the region
After the liberation of the right bank of the Kherson region, part of the region was under constant shelling by the occupiers. The Russians attacked the civilian population with heavy weapons, artillery, and aviation.
Yesterday, November 8, the Russian occupiers shelled the Point of Invincibility in the Kherson region.
Also yesterday, the Russians shelled Kherson. As a result of enemy shelling, one resident was injured.
As the First Deputy Chairman of the Kherson Regional Council, Yurii Sobolevskyi, said, on the anniversary of the liberation of Kherson from the occupation, the Russians may increase the shelling of the city. In this regard, celebrations in honor of the liberation anniversary are not planned there.