Russian shelling of Donetsk region over the day: 4 people killed, 7 injured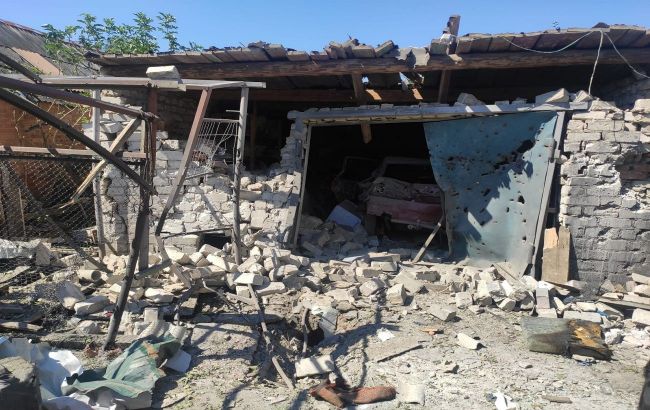 Photo: Consequences of shelling in Donetsk region (facebook.com/pavlokyrylenko.donoda)
Russian forces shelled the Donetsk region with Uragan and Smerch multiple-rocket launch systems over the past day. As a result of enemy strikes, four people were killed, according to the Head of the Donetsk Regional Military Administration Pavlo Kyrylenko.
Victims of the strikes
In the Horlivka direction, 2 people were wounded in Pivnichne.
In the Lysychansk direction, 1 person was killed and 3 were wounded in Siversk.
In the Lyman community, 1 person was killed in Yampil and 1 was wounded in Torske.
According to the administration, the Russians killed a total of 4 residents of the Donetsk region within a day and injured 7 more.
Damage from Russian strikes
In the Vuhledar direction, a utility structure was damaged in Bohoyavlenka, Maksymivka and Vuhledar were under fire.
In the Donetsk direction, Russians shelled two streets in Avdiivka from tanks in the morning. In the Kurakhivska community, an agricultural enterprise was shelled by Uragan systems.
Photo: Consequences of the strikes (facebook.com/pavlokyrylenko.donoda)
In the Horlivka direction, in the Toretsk community, 5 buildings and an administrative building were damaged; in Druzhba, a building was damaged. In Kostyantynivka, the enemy fired 4 salvos from Smerch systems, damaging 9 gas pipelines and 2 power lines.
Kyrylenko also mentioned that 4 buildings were damaged in the Chasiv Yar community. In Rai-Oleksandrivka, several buildings were damaged.
In the Lysychansk direction, an administrative building was destroyed in Siversk, and 2 buildings were damaged.
Shelling of the Donetsk region
Settlements in the Donetsk region suffer from Russian shelling on a daily basis. Both frontline cities and villages in the region suffer, as well as those in relatively rear areas.
Last night, Sloviansk in the Donetsk region was hit. The factory was damaged as a result of the attack.
The Russian military also shelled Kramatorsk using the S-300 anti-aircraft missile system. As a result of the enemy attack, two people were killed, and another was wounded.