Russian missile strike on Ukraine, August 7: debris clearance resumes in Pokrovsk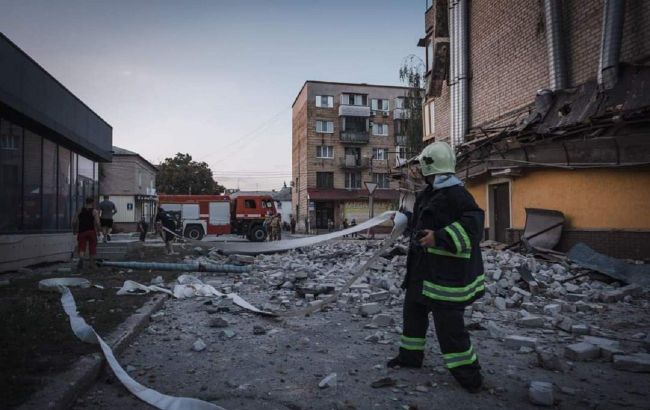 Aftermath of the Russian missile strike on Pokrovsk (Photo: t.me/dsns_telegram)
According to the statements from the Minister of Internal Affairs, Ihor Klymenko, and the State Emergency Service (DSNS), Pokrovsk, located in the Donetsk region, saw the resumption of debris removal efforts on Tuesday morning, August 8, following the Russian missile strikes that targeted the city the previous day. These operations had been temporarily halted during the night due to the looming threat of further hostile shelling.
"We are recommencing debris clearance. We were forced to suspend the operations overnight due to the high risk of renewed shelling," the head of the Ministry of Internal Affairs wrote.
The official also provided updated figures regarding the number of casualties resulting from the rocket attack on Monday evening. The toll of those affected has significantly increased.
"Tragedy in Pokrovsk: Information on the casualties as of 7:00 a.m. 7 people have lost their lives. 67 are injured, among them - 29 police officers, 7 rescuers, and 2 children," Klymenko revealed.
Rescue teams mentioned that 41 personnel and 11 units of DSNS equipment, including a composite unit, were mobilized for emergency rescue operations at the site of the housing shelling.
"In the evening of August 7, all fire sources at the site of the missile shelling were localized within an area of 75 square meters. A total of 8 people were saved by DSNS forces," the announcement stated.
Photo: Aftermath of the Russian missile strike on Pokrovsk (https://t.me/pavlokyrylenko_donoda/9090)
Russian missile shelling of Pokrovsk on August 7
Russian occupying forces launched missile strikes against residential high-rises in the city of Pokrovsk (Donetsk region) yesterday evening. The strikes, utilizing Iskander missiles, occurred twice at 19:15 and 19:52 targeting the city center. The hostile attack resulted in casualties and extensive destruction.
According to Donetsk Regional Military Administration, the attacks led to the destruction and damage of multi-story residential buildings, private houses, administrative structures, dining establishments, and a hotel.
As the Minister of Internal Affairs confirmed, during the subsequent shelling, 52-year-old Deputy Chief of the Main Directorate of the State Emergency Service in Donetsk region, Andriy Omelchenko, tragically lost his life.