Russian losses in Tavria direction in past day: Over 400 occupiers, 14 equipment units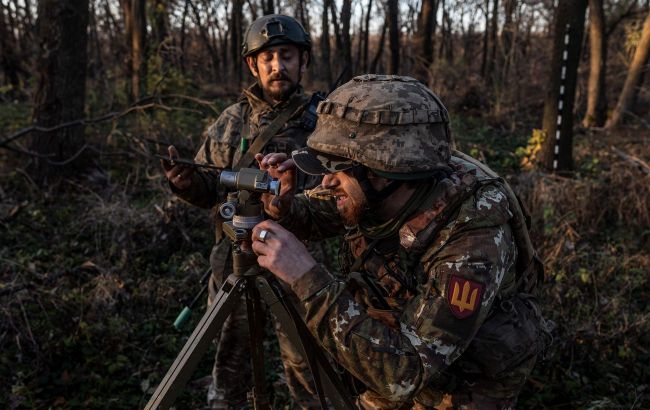 Photo: Ukrainian military (Getty Images)
In total, the enemy carried out 21 airstrikes in the Tavria direction, 47 combat engagements, and 877 artillery barrages.
In the area of responsibility of the Tavria anti-aircraft missile defense system in the Avdiivka direction, the Russians do not stop trying to surround Avdiivka. Ukrainian soldiers firmly hold the defense and inflict significant losses on the invaders.
The enemy carried out assaults southeast of Novokalynove, Avdiivka, and Pervomaiske in the Donetsk region, where Ukrainian defenders repelled 9 enemy attacks.
In the Maryinka direction, the enemy conducted unsuccessful assaults in the areas of Maryinka and Novomykhailivka, Donetsk region. There, the Ukrainian Defense Forces repelled more than 25 attacks.
In the Shakhtarsk direction, the enemy conducted unsuccessful assaults south of Zolota Nyva and Staromayorske, Donetsk region.
In the Zaporizhzhia direction, Ukrainian defenders repelled 4 enemy attacks in the Verbove and Robotyne regions of the Zaporizhzhia region.
At the same time, the Defense Forces of Ukraine continue to conduct an offensive operation in the Melitopol direction, inflict losses in manpower and equipment on the occupying troops, and exhaust the enemy along the entire front line.
Losses of the enemy
Units of rocket forces and artillery from the Tavria air defense system carried out 1,213 fire missions during the day.
The total losses of the enemy amounted to 433 people, and one occupier surrendered.
Also, Ukrainian fighters destroyed 14 units of military equipment, in particular:
2 armoured vehicles;
1 artillery system;
1 reactive salvo fire system;
1 anti-tank missile complex ;
2 drones;
8 cars.
The situation on the front
According to the General Staff, the Defense Forces of Ukraine repelled more than 25 enemy attacks in the Maryinka direction, advancing in the Melitopol direction. Last day there were 69 combat clashes.
In particular, as the Institute for the Study of War notes, the Armed Forces of Ukraine established control over the positions from the Antonivka railway bridge north of Zaplava to the Antonivka road bridge north of Oleshky.
Russia's losses in the war in Ukraine as of the morning of Friday, November 10, are 800 occupiers, the total number of losses of the Russian army since the beginning of the invasion is 309,520 soldiers. In addition, the Ukrainian Armed Forces destroyed 14 artillery systems and destroyed 23 vehicles.