Russian losses in Tavria direction in past day: Nearly 500 occupiers and 31 units of equipment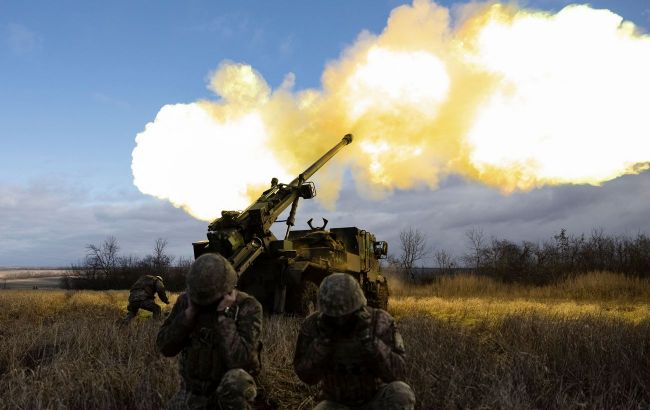 Photo: Ukrainian military (Getty Images)
In general, in the Tavria direction, the enemy carried out 22 airstrikes, carried out 38 combat encounters, and carried out 1,073 artillery barrages.
In the area of responsibility of the Tavria anti-aircraft missile defense system in the Avdiivka direction, the enemy, with the support of aviation, does not stop trying to surround Avdiivka, but Ukrainian soldiers firmly hold the defense and inflict significant losses on the enemy.
The offensive actions of the occupiers near the settlements of Stepove, Tonenke, Severna, and Pervomaiske of the Donetsk region were unsuccessful. Here, the Defense Forces repelled about 10 enemy attacks.
In the Maryinka direction, the invaders conducted unsuccessful assaults in the Maryinka and Novomykhailivka regions of the Donetsk region, where Ukrainian soldiers repelled more than 20 attacks.
In the Shakhtarsk direction, the enemy conducted unsuccessful assaults near Prechystivka and Staromaiorske, Donetsk region.
In the Zaporizhzhia direction, the enemy unsuccessfully tried to restore the lost position near Robotyne in the Zaporizhzhia region.
At the same time, the Defense Forces of Ukraine continue to conduct an offensive operation in the Melitopol direction, inflict losses in manpower and equipment on the occupying forces, and exhaust the enemy along the entire front line.
Losses of the enemy
Units of rocket forces and artillery from the Tavria air defense system during the day performed 1,341 fire missions.
The total losses of the enemy amounted to 483 individuals.
Ukrainian fighters also destroyed 31 units of military equipment, including:
11 tanks;
4 armoured vehicles;
6 artillery systems;
2 drones;
8 cars.
In addition, two Russian ammunition depots were destroyed.
Situation on the front
Ukrainian troops continue defense in the east and south, with offensive operations in the Melitopol and Bakhmut directions. According to the General Staff, 50 combat clashes took place during the past day.
The Institute for the Study of War reported that Ukrainian troops are holding positions and continuing offensive actions on the left bank of the Kherson region. Russian sources claimed that the Armed Forces attacked near Poima and Pishchanivka and advanced near Krynky. Also, the Defense Forces of Ukraine achieved success northeast of the railway track in the Klishchiivka area.
Russia's losses in the war in Ukraine as of Friday, November 3, amounted to 850 occupiers, the total number of losses of the Russian army since the beginning of the invasion is 303,270 soldiers. In addition, the Armed Forces of Ukraine shot down two cruise missiles.