Russian general suspected for suppressing partisan movement in Crimea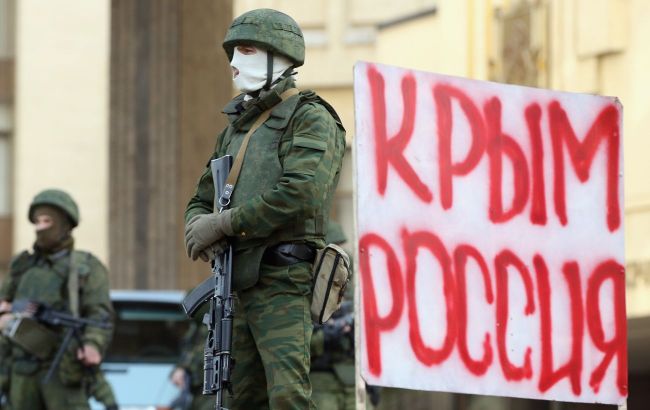 The general of the Russian National Guard has been informed of suspicion (Photo: Getty Images)
The general of the Russian National Guard, who is in command of suppressing the partisan movement in Crimea, has been informed of suspicion, according to the Telegram channel of the Security Service of Ukraine (SSU).
Counterintelligence military personnel of the Security Service have compiled evidence against Viacheslav Kharaiev, the former deputy chief of the Crimean Territorial Command of the Internal Troops of the Ministry of Internal Affairs of Ukraine.
Unlawful actions of Kharaiev
During the annexation of the Ukrainian peninsula, the official remained in Simferopol and switched sides to support the Russian occupiers.
In response, the occupiers appointed him as the "Chief of Staff of the Main Directorate of the National Guard Troops of the Russian Federation in the Republic of Crimea and the City of Sevastopol" and awarded him the rank of "Major General'.
According to the SSU, since the full-scale invasion by Russia, Kharaiev has been leading unit involved in the seizure of parts of the Zaporizhzhia and Kherson regions.
Suppression of partisan movement in Crimea
Furthermore, in this "position", the traitor directly carries out Kremlin's tasks for suppressing resistance within the peninsula.
For this purpose, he organizes mass repressions, during which the occupiers abduct people from their homes or right on the streets and imprison them in Russian prisons.
Among the victims are Ukrainian patriots in Crimea who resist the aggressor.
They are subjected to psychological pressure and physical violence in captivity. Instances of prolonged detention without food and water, accompanied by constant threats of 'slow death', are not uncommon.
In this way, the enemy aims to intimidate Crimean residents, break their resistance, and force them to collaborate in favor of the aggressor country.
Based on the gathered evidence, the Prosecutor's Office of the Autonomous Republic of Crimea and the city of Sevastopol have informed Kharaiev of suspicion of state treason.
As the offender is located in the temporarily occupied part of our state, comprehensive measures are being taken to hold him accountable.
Ukrainian partisans in occupied territories
Recently, Ukrainian partisans poisoned nearly two dozen Russian officers in the temporarily occupied Mariupol in the Donetsk region; two of them died.
Also, at the end of July, Ukrainian partisans conducted an operation against the enemy in the temporarily occupied Mariupol. During the operation, they managed to neutralize three military trucks.
Earlier in the Kherson region, partisans launched a successful attack on the occupiers, resulting in the elimination of 6 Russian military personnel and damaging several trucks.