Russia produces more than 100 missiles a month: Ukrainian Intelligence's data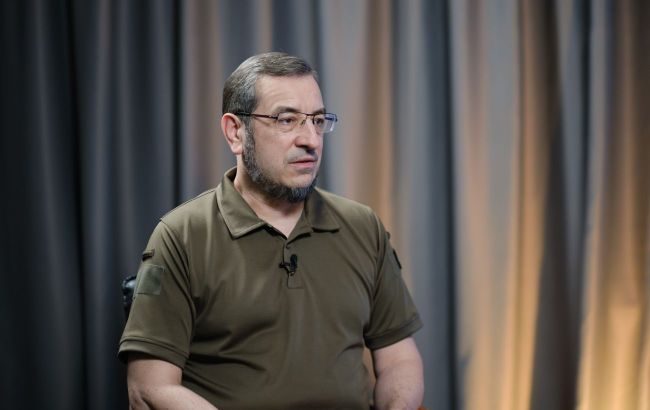 Representative of the Main Intelligence Directorate of the Ministry of Defense of Ukraine, Vadym Skibitskyi (Photo:RBC-Ukraine, Vitalii Nosach)
Representative of the Main Intelligence Directorate of the Ministry of Defense of Ukraine, Major General Vadym Skibitskyi, has revealed that despite Ukrainians' hopes, Russia has been actively accumulating and increasing the production of missiles since the beginning of spring. In August, the Russians planned to launch around 118 missiles, including Kinzhals, Iskander-M, Iskander-K, Kalibr, Kh-101, and modified Kh-22 (Kh-32) missiles.
"In addition to six Kinzhals, the Russians have planned to produce 30 ballistic Iskander-M missiles, 12 cruise Iskander-K missiles, 20 Kalibr missiles, and approximately 40 Kh-101 missiles in August. Furthermore, they are enhancing the Kh-22 cruise missiles, and the modified versions are designated as Kh-32. According to our information, the Russians may deliver no more than ten units of these upgraded missiles each month," Skibitskyi said. However, he noted that the actual production of specific missile models lags behind their plans.
He also clarified that Russia is compelled to reconsider its strike tactics due to limited stocks and production of certain missile types. Firstly, this involves alternating missiles of different classes. Secondly, the Russians are now more meticulously selecting targets and paying significant attention to determining flight routes of cruise missiles and UAVs to overcome our air defense system.
"Thirdly, they have begun making quicker decisions on launching attacks. For instance, when they receive information about the urgent need to hit a target, they employ more accurate high-speed missiles that are more difficult for our Air Defense units to intercept, as was recently the case in Chernihiv, where they used the Iskander-K cruise missile," Skibitskyi explained.
He added that the missile brigades with Iskander systems are deployed along the entire border – in the Rostov, Kursk, and Belgorod regions and in our occupied territories, including Crimea.
"Consequently, our regions and areas closer to the front line and the Ukrainian-Russian border are at risk, as the flight time of these missiles to their targets is a matter of minutes. Reacting swiftly to their use is extremely difficult. The enemy is learning and beginning to employ new approaches and tactical techniques. And most likely, the Russians are changing their methodology for selecting targets on our territory," the military intelligence representative shared.
For more detailed information on what to expect from Russia this autumn - in report "Energy at risk: How can Russia attack Ukraine in the fall and number of missiles in the enemy's arsenal" by RBC-Ukraine.
Previously, the Head of the Office of the President of Ukraine, Andriy Yermak, informed that the missiles used by the Russian military in the attack on Ukraine during the night of August 15 were manufactured in April. Similar missiles contain 30 foreign microchips.
Yermak stated that the downed Ka-52 helicopters on August 17 contained high-tech components from Western and Asian nations. Yermak also revealed that avenues through which Russia acquires these components in circumvention of sanctions are being investigated.