Ramstein, September 19 - Key aspects, expectations for upcoming partners meeting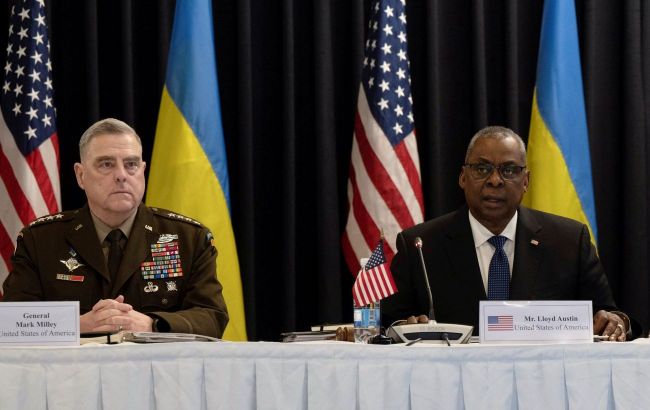 The Chairman of the Joint Chiefs of Staff of the United States, Mark Milley, and the Secretary of Defense, Lloyd Austin (photo: defense.gov)
The next meeting of Ukraine's allies in the "Ramstein" format will take place today, September 19. It will be the fifteenth meeting in total and the first one for the new Minister of Defense, Rustem Umerov.
The meetings of the Contact Group on Ukraine's defense have been taking place since April 2022. It is anticipated that it was precisely after the Ukrainian Defense Forces pushed the Russians out of the northern regions that partners began to believe in the possibility of Ukrainian victory.
The first meeting took place at the American military base in Ramstein, Germany. Hence, the Contact Group received the unofficial name of the "Ramstein" format.
Over the course of more than a year and a half of the Russian-Ukrainian war, there have been 14 meetings. At the conclusion of each of them, decisions were made for the gradual strengthening of Ukraine, ranging from the supply of NATO-standard artillery to advanced air defense systems.
Photo: Pentagon Chief Lloyd Austin presides over all meetings (Getty Images)
The list of participants is quite extensive. In addition to NATO members, it includes Austria, Australia, South Korea, New Zealand, Japan, Israel, Jordan, Qatar, Kenya, Liberia, Morocco, Colombia, Ecuador, Moldova, and Georgia, totaling around 50 countries.
Today, the partners will meet in an offline format at Ramstein Air Base. As noted by the Pentagon, the meeting will be personally led by US Secretary of Defense Lloyd Austin and Chairman of the Joint Chiefs of Staff General Mark Milley. For Milley, this meeting is likely to be his last, as his term expires this month.
"Ramstein-1". Inaugural meeting and prospects assessment
The first meeting of Ukraine's allies took place on April 26, 2022. It was more of a consultative meeting where participants discussed the potential industrial capabilities, including cataloging the defense industries of the allies. This was necessary to assess how they could strengthen Ukraine.
The meeting was not under the auspices of NATO, but all alliance members were present in full. The negotiations lasted for seven hours, and as a result, Secretary of Defense Lloyd Austin promised that the allies would assist Ukraine with all the necessary support as quickly as possible.
During the meeting, more than 30 countries expressed their readiness to allocate over $5 billion for this purpose. It was also agreed at that time that consultations would be held on a regular basis.
"Ramstein-2". Artillery and missiles
During the second meeting, discussions focused on specific weapons deliveries. Partners committed to providing 155mm caliber artillery and strengthening the coastal line defenses.
Italy, Greece, Norway, and Poland announced the transfer of artillery systems, ammunition, Harpoon missile launchers, with Denmark later providing the missiles. The Czech Republic announced the supply of fire support helicopters, tanks (of Soviet origin), and missile systems.
In total, more than 20 countries announced packages of military assistance, including combat vehicles and training for Ukrainian forces on Western equipment.
"Ramstein-3". Announcements regarding HIMARS
The third meeting took place in June amid street battles for Severodonetsk. Its main outcome was the agreement on the supply of long-range multiple rocket launchers HIMARS and ammunition for them.
Photo: Deliveries of HIMARS-type systems were agreed upon at the third 'Ramstein' meeting (Getty Images)
In addition, the United States announced a package worth 1 billion dollars, which included M777 howitzers, 155mm projectiles, vehicles, radio equipment, and more. As part of the coastal reinforcement efforts, it was decided to supply Brimstone missiles, and Germany pledged its MARS II multiple rocket launcher system.
Slovakia committed to providing Mi-17 helicopters and rocket ammunition. Canada, Poland, and the Netherlands offered additional artillery support.
"Ramstein-4". Repairs to damaged equipment, ammunition, and HIMARS again
Ahead of the negotiations in July, the United States announced a $400 million package, including 1,000 precision artillery shells. Following the online meeting, Lloyd Austin stated that, in addition to weapons, the allies will provide training for the Ukrainian Armed Forces.
It was also revealed that some countries had begun repairing damaged equipment on their territory. As of July 30, out of the 50 participants in "Ramstein," 50 supplied lethal weapons to Ukraine. Among the EU member states, only neutral Austria and Hungary refrained from doing so.
Furthermore, the U.S. announced the delivery of an additional 20 HIMARS systems.
"Ramstein-5". Gepard anti-aircraft systems, HARM, and Hellfire missiles
At the conclusion of the fifth meeting, the allies reaffirmed their commitment to providing long-term support to Ukraine. Among the priorities, they identified the development of a three-tier air defense and missile defense system. The U.S. announced another package, NATO pledged to provide winter equipment, Germany and the Netherlands undertook to train sappers.
Norway promised to supply AGM-114 Hellfire missiles, the German side offered self-propelled anti-aircraft systems Gepard and armored bridge-layer tanks Biber.
The U.S. also stated that they would deliver more howitzers, anti-radiation missiles (HARM), millions of rounds, over 5,000 anti-tank systems, and a thousand anti-tank mines.
"Ramstein-6". Missile defense against Russian missiles
The sixth meeting took place on October 12, just two days after the first major attack on Ukraine's energy infrastructure. During this meeting, the allies pledged to provide air defense systems, and for the first time, the NASAMS system was mentioned.
Photo: Following the mass missile strikes in October 2022, the allies agreed to transfer NASAMS air defense systems (Getty Images).
Additionally, Germany committed to transferring self-propelled howitzers PzH 2000 and rocket artillery systems MARS II (a variation of HIMARS). The Netherlands provided missiles for air defense systems.
Canada announced a package of nearly 50 million dollars, including artillery shells, winter gear, satellite communication equipment, and more.
"Ramstein-7". More missile defense and artillery
At the latest meeting, allies discussed the effectiveness of NASAMS systems against Russian missiles. At least six countries pledged further military assistance.
Sweden promised additional air defense systems, Spain offered two Hawk launchers and missiles, Germany committed to providing air defense systems, artillery, and ammunition for MLRS, Greece offered 155mm shells, Poland provided artillery ammunition, anti-tank weapons, and short-range air defense systems.
"Ramstein-8". The west contemplates transferring its tanks
The meeting took place on January 20, 2023, at Ramstein Air Base and was significant as the West effectively unblocked the delivery of their tanks. Germany had been reluctant to approve the delivery of Leopard 2 tanks, pending a decision from the United States regarding the M1 Abrams. However, under pressure from allies, Germany changed its position.
Following the negotiations, the United States announced the transfer of Avenger air defense systems, Bradley armored vehicles, Stryker armored personnel carriers, and other equipment. The United Kingdom announced the delivery of 14 Challenger 2 tanks, AS90 self-propelled howitzers, armored vehicles, drones, and Brimstone missiles.
Photo: After the 8th "Ramstein" meeting, the allies finally decided to transfer Western-model tanks (Getty Images)
France agreed to transfer "wheeled tanks" AMX-10 RC, the Netherlands - two Patriot launchers in addition to batteries from the US and Germany, Italy - a SAMP-T air defense missile battery, Denmark - CAESAR self-propelled artillery systems.
The Baltic countries provided dozens of howitzers, thousands of artillery rounds, dozens of Stinger portable air defense systems, spare parts, and two Mi-17 helicopters. Poland supplied C-60 anti-aircraft systems and continued deliveries of self-propelled howitzers KRAB.
"Ramstein-9". Formation of the tank coalition
As of the February meeting, 8 allies had already committed to supplying Leopard 2 tanks. Denmark stated that it would donate all of its CAESAR self-propelled artillery, Greece pledged to transfer 20 BMPs, and other countries committed various air defense systems.
Norway adopted a five-year plan, under which it will provide $7 billion in various forms of support to Ukraine. The Tank Coalition discussed 150 Leopard 1 and Leopard 2 tanks, the US made a final decision on the M1 Abrams, and Poland and the Czech Republic approved deliveries of upgraded T-72 tanks.
"Ramstein-10". Ammunition for counteroffensive
The key theme of the March meeting was to ensure Ukraine's supply of ammunition ahead of the counteroffensive. Reinforcing air defense and forming an "armored fist" were announced. Canada decided to transfer several Leopard 2 tanks.
Germany allocated 5,000 artillery shells and ammunition for MARS II, Slovakia and Poland made a final decision to transfer MiG-29 fighters. Norway and the US provided an additional two NASAMS systems.
Photo: Slovakia announced that it will transfer all of its MiG-29 aircraft to Ukraine (oryxspioenkop.com)
The Netherlands initiated new contracts within the framework of arms deliveries to Ukraine, and Slovenia promised to transfer armored vehicles.
"Ramstein-11". Still without western aviation
This meeting was dedicated to the issues of a secure sky. Ukraine hoped for a "green light" regarding decisions on Western combat aviation, but the allies focused on ground-based air defense systems.
Within the tank coalition, an agreement was reached to train Ukrainian military personnel on M1 Abrams tanks and establish a technical support center for Leopard tanks in Poland. Following the meeting, the head of the Pentagon, Lloyd Austin, mentioned that thanks to the tanks, 9 mechanized brigades of the Ukrainian Armed Forces were reinforced.
Ukraine was granted the opportunity to collaborate with the NATO Agency for Procurement. Canada provided sniper rifles and radio stations to support Leopard 2.
"Ramstein-12". Coalition of fighter jets
During the May meeting, discussions already included the training of Ukrainian pilots on F-16 aircraft. However, a high-ranking official in the U.S. military, Mark Milley, mentioned that aircraft require billions of dollars, so it's better to focus on ground-based air defense systems for now.
Nevertheless, the outlines of an aviation coalition emerged. Denmark and the Netherlands took the lead in this regard, with the United States, the United Kingdom, Norway, Belgium, Portugal, and Poland joining the effort to secure future aircraft deliveries.
Additionally, the United States pledged to place orders for the production of NASAMS systems for Ukraine.
"Ramstein-13". Assistance amidst the counteroffensive
New deliveries have been announced by Canada, the United States, the United Kingdom, Denmark, Italy, Norway, Germany, Sweden, Spain, Denmark, and the Netherlands. These military aid packages include air defense systems, missiles, tanks, armored vehicles, reconnaissance and strike drones, as well as ammunition.
During the meeting, Ukraine also signed a declaration with Slovakia and the Czech Republic for the purchase and maintenance of CV90 infantry fighting vehicles.
"Ramstein-14". Pilot training and clarity on F-16
In July, the latest online-format meeting took place. Secretary of Defense Lloyd Austin pledged that partners would not stop until Ukraine receives the necessary weapons and ammunition.
Belgium, the Netherlands, and Luxembourg announced plans to transfer M113 armored personnel carriers. The issue of training pilots on F-16 aircraft has also been finally resolved. Training is set to begin in Denmark, with initial testing and selection of Ukrainian personnel, followed by English language training, and then theoretical and practical pilot training.
Photo: The issue of F-16 fighter jets for Ukraine was discussed, among other matters, within the "Ramstein" format.
As of now, the first pilots have already embarked on their training, and Western media outlets believe that several F-16 fighter jets will be able to take to the Ukrainian skies in February 2024.
"Ramstein-15" will take place today. What to expect from the meeting?
In the run-up to the meeting in Ukraine and the West, discussions are increasingly focusing on when the United States will decide on the transfer of long-range ATACMS missiles. A similar decision is expected from Germany regarding Taurus missiles.
Some allies have announced assistance without waiting for the meeting. For example, Denmark will provide a substantial aid package worth over $800 million, including tanks, BMPs, and anti-aircraft guns. Lithuania has pledged 1.5 million rounds of ammunition.
RBC-Ukraine spoke with military experts who believe that a decision regarding ATACMS may already exist.
"The only thing to wait for is the appropriate application of these missiles, after which it will be announced that the U.S. has transferred them to Ukraine," believes Oeksandr Musiyenko, the Head of the Military Legal Research Center.
It should be noted that there is no specific agenda for today's meeting, but back in August, then-Minister of Defense Oleksii Reznikov announced during the 15th "Ramstein" that the key issues would not change significantly. This includes the main priorities related to missiles, missile systems, radars, Western-model aviation, artillery, and all types of armored vehicles.
The change in the Minister of Defense is unlikely to affect relations with allies. Rustem Umerov, who was appointed to this position just last week, has already been in contact with his American counterpart, Lloyd Austin. The parties exchanged views on Ukraine's urgent needs, discussed the agenda of "Ramstein," and agreed to stay in close contact.
Expert Oleksandr Musiyenko emphasizes that after the appointment of ministers, everything remains stable in terms of international communication at both formal and informal levels.
"You shouldn't expect any significant changes in relation to the new Minister of Defense of Ukraine. The countries that support us, they support Ukraine as a state, not an individual minister or commander-in-chief. The military alliance responsible for cooperation with our partners remains unchanged," he added.