Police open case over explosion at oil pipeline near Ivano-Frankivsk, Ukraine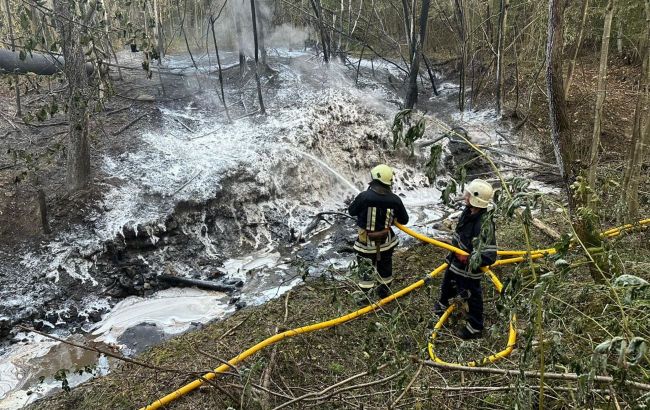 Police open case over explosion at oil pipeline near Ivano-Frankivsk, Ukraine (t.me/dsns_telegram)
The police have initiated a criminal investigation into the explosion at an oil pipeline in the village of Strymba in the Ivano-Frankivsk region, Ukraine, according to the Ministry of Internal Affairs of Ukraine.
According to the Ministry of Internal Affairs, law enforcement officers, forensic experts, and explosives specialists continue to work at the scene. They are determining the circumstances and the cause of the fire on the oil pipeline.
Currently, the police are conducting additional examinations at the scene and collecting material evidence. Several expert assessments have already been scheduled.
It has been established that the oil leak into a stream in the forest area resulted from a pipeline breach. As a result of the fire, five people have been hospitalized with burns. Among them are two children aged 11 and 8, as well as three adults aged 35, 39, and 58.
The investigative department of the Nadvirna district police has launched a pre-trial investigation under the signs of a criminal offense stipulated in Article 292, Part 3 (Damage to objects of main or industrial oil, gas, condensate pipelines, and oil product pipelines).
Explosion near Ivano-Frankivsk
On September 30, local Telegram channels published photos and videos from the village of Strymba, located about 30 kilometers from Ivano-Frankivsk.
Initially, eyewitnesses reported that there was allegedly an explosion of a gas pipeline or something related to oil. Later, it was revealed that there was a rupture in the oil pipeline near the village of Strymba, followed by a fire.
Zinoviy Andriyovych, the mayor of Nadwirna, mentioned that five people were injured. However, according to the State Emergency Service, the number of injured people amounted to six, including two children.
Later, the head of the Ivano-Frankivsk Regional State Administration, Svitlana Onyshchuk, reported that as a result of the explosion on the oil pipeline near Ivano-Frankivsk, nine people were injured, some of them in critical condition at the hospital.
In addition, the Ukrainian oil and natural gas extracting company Ukrnafta reported that the transportation of oil products through the pipeline had been suspended. The circumstances of the emergency incident are currently being investigated, and law enforcement agencies are working at the scene.