Explosion on oil pipeline near Ivano-Frankivsk eliminated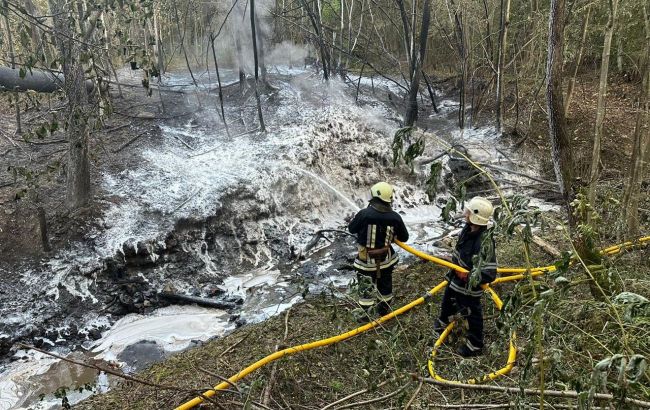 Explosion on the oil pipeline near Ivano-Frankivsk has been eliminated (photo: t.me/dsns_telegram)
"At 17:54, the fire of spilled oil products near the village of Strymba in Nadwirna district and an auxiliary facility with an area of ​​20 square meters, which occurred as a result of a rupture of the oil pipeline, was extinguished," said the rescuers.
According to the State Emergency Service, six people were injured as a result of the explosion and fire, including two children. They were hospitalized.
"The valves on the oil pipeline are closed. At the scene, 18 people and 4 units of the State Emergency Service equipment were involved," added the rescue service.
The reaction of "Ukrnafta"
The company "Ukrnafta" has commented on the emergency situation that occurred in the Ivano-Frankivsk region. They mentioned that "Ukrnafta" specialists worked together with rescuers to eliminate the consequences of the oil pipeline rupture.
"At the moment, the situation is under control. The area of the pipeline rupture has been localized. Transportation of oil products through the pipeline has been stopped. The circumstances of the emergency are being investigated, and law enforcement agencies are working at the scene," the statement on "Ukrnafta's" Facebook page reads.
An explosion near Ivano-Frankivsk
Today, local Telegram channels published photos and videos from the village of Strymba, located about 30 kilometers from Ivano-Frankivsk.
Initially, eyewitnesses claimed that there was a gas pipeline explosion or some kind of incident "related to oil." Later, it was revealed that there was a rupture in an oil pipeline near the village of Strymba, followed by a fire.
Zinoviy Andriyovych, the mayor of Nadwirna, reported that 5 people were injured in the incident. Among the injured were two adults and three children.
Earlier this week, there was an explosion on a gas pipeline in the Poltava region. During an air alarm, there was a depressurization of the main gas pipeline.