North Korea shutters embassies worldwide amid weapons selling to Russia - Bloomberg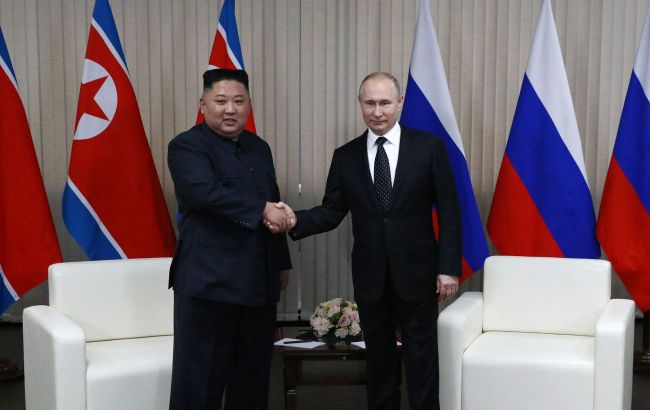 Kim Jong Un and Vladimir Putin (Getty Images)
The leader of North Korea, Kim Jong Un, is beginning the most extensive reduction of North Korean embassies, believing that he can obtain greater profit from deals with the Kremlin in selling weapons rather than from diplomatic representation, according to Bloomberg.
Official North Korean media reported that in October, North Korea closed its embassies in Uganda and Angola.
Pyongyang also plans to close its consulate in Hong Kong and more than a dozen diplomatic missions in Africa and other countries, including the North Korean embassy in Spain.
South Korea's Ministry of Unification believes that Kim is running out of funds to support its all diplomatic facilities due to global sanctions depleting its treasury. According to the ministry, Pyongyang currently has 47 embassies, three consulates, and three representative offices.
The media notes that North Korean embassies hold an unusual place in the diplomatic world: the United States, the United Kingdom, and other countries accuse many of them of making illegal financial schemes to fund their activities, purchasing luxury items for leaders in Pyongyang, and sending back ill-gotten money.
North Korea regularly denies any accusations.
The closures come as North Korea appears to have stepped up a lucrative business in sending munitions to Russia to help in its assault on Ukraine.
Since August, North Korea has sent more than 1 million artillery shells for Putin's war machine, South Korean lawmaker Yoo Sang-bum said after attending a briefing by the country's spy agency.
High demand from Russia's war on Ukraine has driven up global artillery prices, with the 155 mm shells used by NATO forces priced at about $3,000 each. If North Korea sold shells at similar prices, the value of its shipments to Russia would exceed $3 billion, more than 10% of North Korea's economy, based on an estimate of its annual output by South Korea's central bank.
Transfer of North Korean arms to Russia
North Korea sent over 1 million artillery shells to Russia. The deliveries began in August of this year.
North Korea has made approximately 10 weapon shipments to Russia, which could last for about two months of shelling.
After a recent visit by Kim Jong Un to Russia, the White House announced that the dictator's regime provided occupiers with 1,000 containers of military equipment and ammunition.
According to Andrii Yusov, a representative of Ukraine's Intelligence, North Korea will not be able to consistently supply Russia.