'Motivation of terror': Ambassador condemns Russia's reaction to events in Israel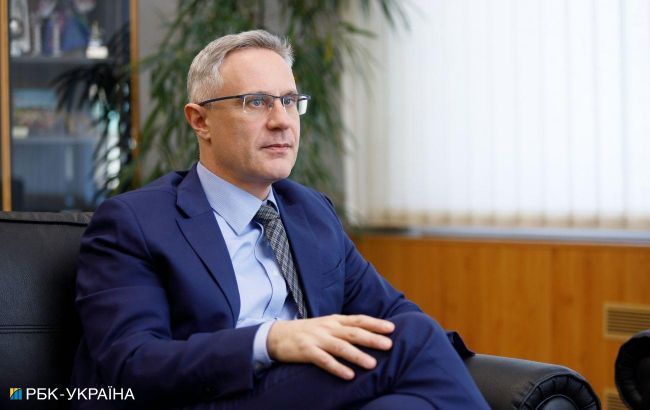 Michael Brodsky, the Israeli Ambassador to Ukraine (Photo: RBC-Ukraine, Vitalii Nosach)
Israel is disappointed with the Russian response to the conflict in the Middle East involving Hamas militants. According to Michael Brodsky, the Israeli Ambassador to Ukraine, in response to a question from an RBC-Ukraine correspondent, such actions by Russia only provide additional legitimacy and motivation for terror.
"We were disappointed with Russia's reaction to what happened to us. We are extremely concerned about the anti-Semitic manifestations that have occurred in recent days in the Caucasus. And, of course, we expressed unequivocally and quite strongly our protest against the visit of Hamas leaders to Moscow. We believe that such a visit only provides additional legitimacy and motivation for terrorism," said Ambassador Brodsky.
He added that it is too early to say how the current position of various countries, including Ukraine, will affect Israel's future role, as Israel is currently focused solely on combating Hamas terrorists.
Russia's Position on the Israel War
Recently, a delegation from Hamas, which conducted a large-scale invasion of Israeli territory on October 7, visited Moscow. In turn, Tel Aviv condemned Russia for meeting with representatives of the militants.
Russian leader Vladimir Putin himself took the side of Palestine, describing this war as a "bright example of the failure of US policy," which allegedly "ignored the interests of the Palestinian people."
Hamas and Putin praised each other for Russia's "tireless efforts" in the context of the war with Israel.
Moreover, anti-Israel protests erupted recently in Russia's North Caucasus Federal District, particularly in the capital of Dagestan, Makhachkala. Aggressive individuals in the evening of October 29 seized the airport in Makhachkala in "search of Jews" who allegedly arrived from Israel.
However, Putin did not condemn these events in Makhachkala. In the United States, it is considered a "demonstration of hatred, fanaticism, and intimidation" by Russia.