Million euros per week: Greece's mega-resort on Onassis Island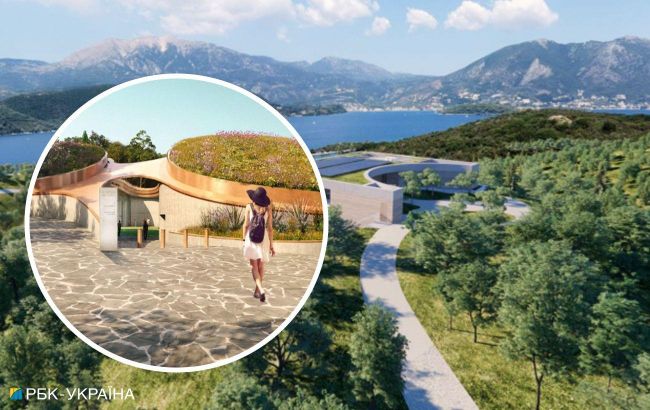 Greece's mega-resort on Onassis Island (RBC-Ukraine collage)
In Greece, a mega-resort is being built on Onassis (Skorpios) Island, with rental rates expected to exceed 1 million euros per week. It will accommodate up to 50 guests.
The Greek Ministry of Tourism anticipates that the project will create more than 100 jobs, according to ot.gr.
Skorpios Island, near Lefkada, was once the private island of Aristotle Onassis, who left instructions not to sell it until his heirs could maintain the property. It now belongs to a Russian billionaire who is transforming the location into a VIP resort and has already invested over 400 million euros. The resort is planned to open in 2024.
The project was designed by Norway-based architectural firm Snøhetta, known for projects such as the Bibliotheca Alexandrina in Egypt, Europe's first underwater restaurant, and Le Monde's headquarters in Paris.
Photo: Landscape of the future resort (archinect.com)
After construction is completed, the island will feature a spa center, villas, a sports field, a farm, a vineyard, a helipad, and a marina for large yachts.
The resort will be guarded by snipers and cameras for maximum security. The owners' family will use the island for personal recreation during certain times of the year and rent it out the rest of the time.
Photo: Resort project on the island (archinect.com)
Onassis purchased the island in 1963 for about 13,000 euros. He brought thousands of trees and rare plants there. In 2013, the island was purchased by a Russian magnate. The Onassis family chapel, the Pink House, and a villa built for Jacqueline Kennedy will remain on Skorpios.
We previously reported that strict restrictions would be imposed on tourists in Majorca and Ibiza, with penalties for bad behavior and alcohol-fueled parties.
We also wrote how to choose a resort in the Maldives to fit any budget. The country offers beach vacations year-round.