Kuleba-Baerbock on sending Taurus missiles to Ukraine: 'You'll do it anyway, why we're wasting time?'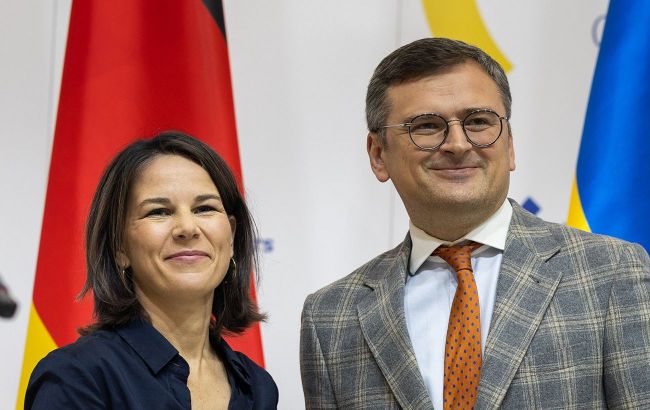 Annalena Baerbock and Dmytro Kuleba (Getty Images)
The Minister of Foreign Affairs of Ukraine, Dmytro Kuleba, believes that Germany will transfer Taurus cruise missiles to Ukraine in any case. He made this statement during a press conference with his German colleague Annalena Baerbock.
Kuleba and Baerbock discussed bilateral relations between Ukraine and Germany, as well as new ways of exporting grain and providing additional weaponry. This included discussions about strengthening air defense and the transfer of long-range Taurus missiles.
"We have discussed in detail the provision of German long-range Taurus missiles to Ukraine. Today, we better understand the specifics of the decision-making process within the German government. Ukraine is ready to do everything necessary on its part to expedite this," Kuleba stated.
He notes that Germany will still transfer Taurus missiles to Ukraine to protect ports against Russian airstrikes and that there is no need to delay this decision.
"You will do it anyway; it's just a matter of time, and I don't understand why we are wasting time," he added.
Taurus missiles
Previously, the media reported that Ukraine officially requested Taurus missiles from Germany, but Berlin hesitated to transfer them.
In late July, German journalists wrote that there was growing support within the government and parliament for the transfer of Taurus missiles to Ukraine.
According to Spiegel, Chancellor Olaf Scholz wants to make technical modifications to the missiles to prevent Ukrainian military strikes on Russian territory, but this does not apply to the territory of occupied Crimea.
Former Ukraine's Defense Minister Oleksii Reznikov is optimistic about the Taurus issue. He believes that the overall transfer process should take less than a year.
Secretary of the National Security and Defense Council of Ukraine, Oleksii Danilov, believes that it's not mistrust of Ukraine but fear of provoking Moscow that is hindering Germany from providing Taurus missiles.
Chair of the Bundestag Defense Committee, Marie-Agnes Strack-Zimmermann, believes that Scholz is the only one within the coalition blocking the supply of Taurus missiles to Ukraine.