Kirby on Congress approving aid to Ukraine: If we don't act, Russia will pose threat to U.S.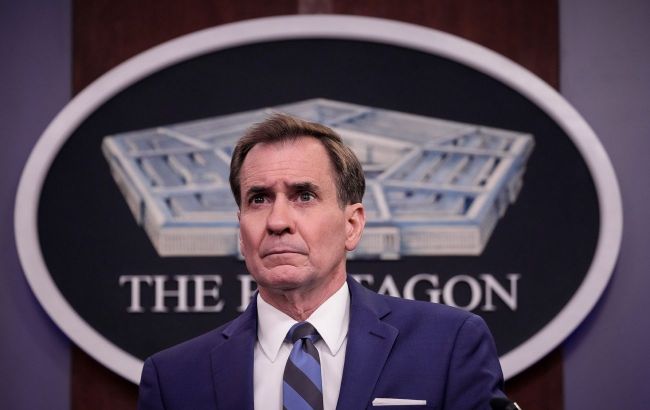 Photo: The representative of the U.S. National Security Council, John Kirby (Getty Images)
If Ukraine does not receive assistance today in its war against Russia, "the aggressor will not stop and threats to America and to the world will keep rising", said the representative of the U.S. National Security Council, John Kirby, during a briefing on Monday, November 20.
He emphasized that the U.S. administration will make efforts to ensure that Congress approves the allocation of aid to Ukraine as soon as possible.
"We want to urge Congress to pass the supplemental request that we put in front of them to allow us to keep supporting Ukraine in an unimpeded, uninterrupted way. The runway continues to get shorter with each, every, each and every passing assistance package that we provide them," Kirby said.
He noted that the approval of a new aid package would help the Ukrainian Armed Forces on the battlefield and expedite Ukraine's victory.
"So the actions that we take and just as critically, the potential actions we don't take will reverberate for many years to come. Speaking of that, I'm sure you saw the piece that the President wrote for the Washington Post over the weekend laying out how the world faces an inflection point right now again, about where the choices we make will determine our future for generations to come," he added.
U.S. aid to Ukraine
On October 1, the U.S. Congress passed a temporary budget bill that did not include new funding for assistance to Ukraine, as it was decided to consider such an initiative separately. After that, U.S. President Joe Biden proposed to Congress to allocate $106 million, with the majority of these funds ($60 billion) intended for assistance to Ukraine. The package also included aid for Israel.
After lengthy debates, the U.S. approved a new temporary budget for the government without aid to Ukraine and Israel. Biden signed the law that helped avoid a government shutdown.
It is also known that there are disputes in the U.S. Congress regarding the strengthening of the border with Mexico. Republicans have set demands, threatening not to support funding for Ukraine if immigration legislation is not adopted.