Japanese autotransformers to provide electricity to half a million Ukrainians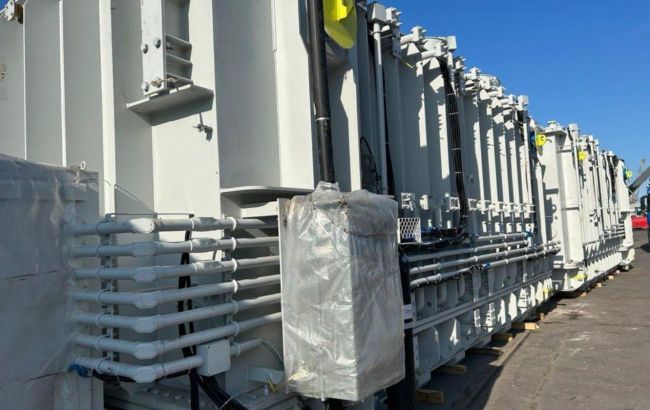 Autotransformers from Japan will provide electricity to 500 thousand Ukrainians (mev.gov.ua)
Two new powerful auto-transformers have arrived in Ukraine, which were acquired and donated by the United Nations Development Programme (UNDP) in Ukraine and the government of Japan. The equipment will be installed at one of the Ukrenergo substations to meet the needs of approximately 500,000 consumers, according to the Ministry of Energy's press service.
As noted by the press service, during the previous winter, auto-transformers were among the primary targets of the enemy during massive shelling. Russians were destroying this equipment, which is critical for supplying electricity to Ukrainians.
"The replacement and manufacturing of auto-transformers require time and resources, and the need for them throughout the country is significant. Therefore, this assistance from Japan and the UNDP is extremely valuable to us," the statement said.
Japan's assistance
Japan has been supporting Ukraine, especially in the restoration of the energy sector, since the beginning of Russia's full-scale invasion.
This is a comprehensive aid package that includes support in the form of specialized equipment (backup power stations, generators of various capacities) necessary for the rapid restoration of damaged energy infrastructure facilities.
As of September, Ukraine has received 12 such shipments with a total weight of over 113 tons. Among them are 256 units of backup power stations and corresponding sets. Another important area of cooperation is Japan's assistance in developing distributed generation, including gas turbines that will ensure the stability of energy supply to various regions this winter.
Preparation for winter
Russia carried out massive attacks on the Ukrainian energy sector last year.
Prime Minister Denys Shmyhal announced the formation of a multi-level protection system for energy facilities ahead of the heating season in Ukraine.
The head of Ukrenergo, Volodymyr Kudrytskyi, mentioned that there may be problems related to massive shelling during this winter. However, the energy system will not collapse and will continue to operate.