Intense battle and heavy losses for Russians: Ukrainian intelligence reveals details of Crimean operation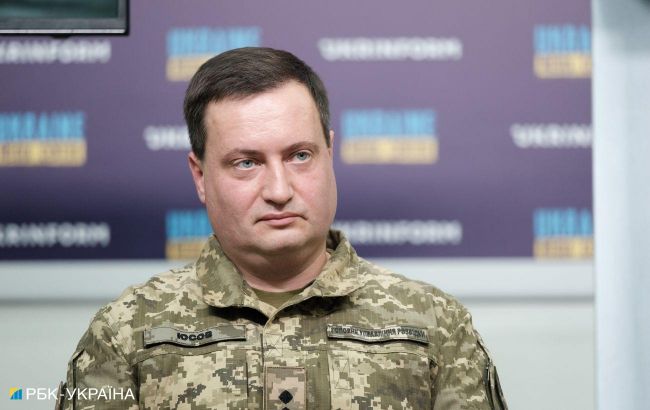 Photo: Andrii Yusov, representative of the Defense Intelligence of Ukraine (Vitalii Nosach/RBC-Ukraine)
During the landing operation by the Ukrainian Defense Intelligence fighters in occupied Crimea, a fierce battle took place. The Russians suffered significant losses, and our groups have already returned from the special operation, shares Andrii Yusov, a representative of the Defense Intelligence of Ukraine, in a comment to RBC-Ukraine.
"The de-occupation of Crimea is ongoing. This was a covert reconnaissance operation, which involved certain actions on the territory and the return of the group. Our groups have already returned," Yusov said.
According to him, a fierce battle took place during the operation, and there were heavy losses among the Russian troops.
"Unfortunately, there are losses among our special forces as well, but they are not comparable to the losses suffered by the Russians," Yusov noted.
He also added that the de-occupation of the peninsula continues.
"Unfortunately, it is not possible without losses. This is the price we pay for essentially surrendering Ukrainian Crimea without a fight in 2014. Ukraine will definitely reclaim Crimea and all the occupied territories," concluded the intelligence representative.
Background
Today, the Defense Intelligence has reported that Ukrainian special forces landed in occupied Crimea.
The Stuhna and Bratstvo special forces groups, as part of the Tymur special unit of the Defense Intelligence of Ukraine, landed on the peninsula and inflicted a fire strike on Russian occupiers.
A video of the special operation was published on the internet earlier.
Special Forces' operations in Crimea
This is not the first landing of Ukrainian soldiers on the territory of occupied Crimea. In particular, on August 24, reconnaissance troops managed to carry out a raid near the settlement of Mayak on the Tarkhankut Peninsula.
At that time, a battle took place as part of a special operation by the intelligence involving naval assets and aviation.
In turn, Russian sources began to invent their own version of the so-called Ukrainian diversion and reconnaissance group, which was supposedly destroyed. In reality, as part of the special operation, at least 30 occupiers were eliminated, and four high-speed boats were damaged.