Hungarian PM emotionally shakes hands with Zelenskyy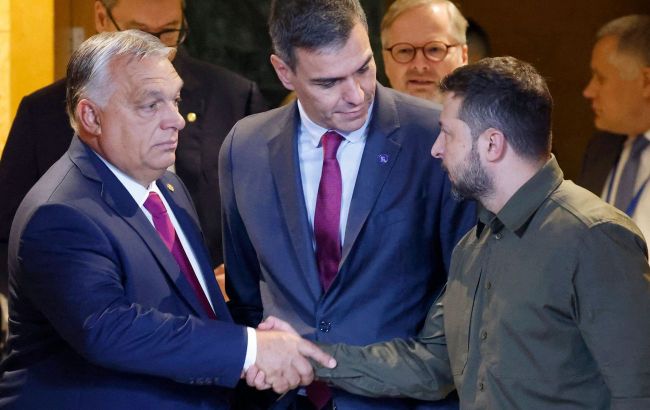 President Volodymyr Zelenskyy and Hungarian Prime Minister Viktor Orban (Photo: GettyImages)
President Volodymyr Zelenskyy and Hungarian Prime Minister Viktor Orban met on the sidelines of the summit in Granada, Italy, on October 5. They shook hands, and during the meeting, the media captured an attractive look from the Hungarian Prime Minister, according to the Hungarian agency 444.hu.
On the official Facebook page of the Prime Minister of Hungary, a gallery of photos of Orban at the European Political Community summit was published, revealing that he also met with Ukrainian President Volodymyr Zelenskyy.
However, local journalists shared more frames capturing the emotions of the Hungarian official during the meeting with the Ukrainian leader.
According to the snapshots, they shook hands and exchanged a few words.
"The Prime Minister exchanged a few words with the Ukrainian president at the European Political Community meeting in Granada," reported Hungarian journalists.
In the first two photos, Orban and Zelenskyy greet each other with a smile and shaking hands.
Photo: Zelenskyy and Orban exchange a few words (Getty Images)
However, in subsequent images, no positive emotions appear on Orban's face. Also, Zelenskyy's smile turned into a serious look.
Photo: Orban looked displeased during a handshake with Zelenskyy (Getty Images)
Orban's pro-Russian position
It cannot be said definitively what Orban's facial expressions might indicate. However, it's worth noting that the pro-Russian Orban maintains warm relations with the Kremlin.
After the start of the full-scale Russian invasion, Hungary repeatedly slowed down European assistance to Ukraine. Official Budapest also does not provide military support to Ukrainians and even advocates for the blockade of Ukrainian agricultural products.
Orban has clashed with Kyiv on several occasions, including the possibility of ethnic Hungarians studying in their language after Ukraine adopted a law in 2017 on the right of students to know the state language.
He recently stated that his country would not support Ukraine in any international matter until Kyiv makes concessions regarding ethnic Hungarians.