Hamas uses hospitals to conceal military activities - IDF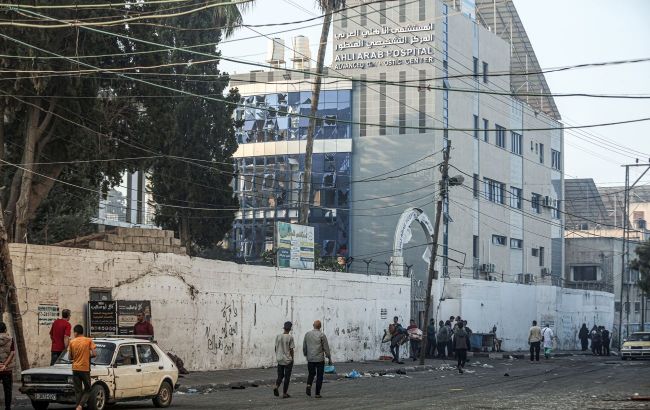 Illustrative photo (photo: Getty Images)
The Israeli army has stated that Hamas is using hospitals in the Gaza Strip as operational bases in a systematic attempt to conceal its military activities, reports Bloomberg.
Representative of the Israel Defense Forces, Daniel Haggari, presented detailed allegations of the presence of militant infrastructure inside and around two large clinics after claiming that the Hamas headquarters was located under the main medical facility's territory.
"Hamas's use of hospitals to disguise their war machine is systematic," Haggari stated.
According to him, the Sheikh Hamad bin Khalifa Al Thani Hospital, built in Qatar, is situated above a tunnel used by Hamas. The militants from this group fired at the Israeli forces from inside the hospital, he added.
Another clinic, the Indonesian Hospital, is used by Hamas to conceal an underground command and control center, said Haggari. According to him, there is a rocket launch pad for Hamas located 75 meters from the hospital.
On October 27, the Israeli army claimed that the Hamas military command was located in a maze of tunnels and underground complexes beneath the Al-Shifa Hospital, the largest medical complex in the Gaza Strip.
Israel's operation in the Gaza Strip
At the beginning of October, Hamas militants launched a large-scale invasion into Israel, during which they killed and kidnapped both military and civilian residents. In response, Israel announced a military operation against the militants, named Operation Iron Swords.
As part of this operation, the Israel Defense Forces (IDF), known as Tsahal in Hebrew, expanded its ground offensive in the Gaza Strip by deploying troops and military equipment.
According to reports, this military escalation occurred after negotiations between Israel and Hamas regarding the release of hostages reached an impasse.
Rear Admiral Daniel Haggari, the spokesperson for the Israel Defense Forces (IDF), announced that IDF forces had completely encircled the city of Gaza and that there were no plans for a ceasefire. The situation remained tense and did not show signs of de-escalation.