Germany to provide Ukraine with IRIS-T defense system and Gepard anti-aircraft guns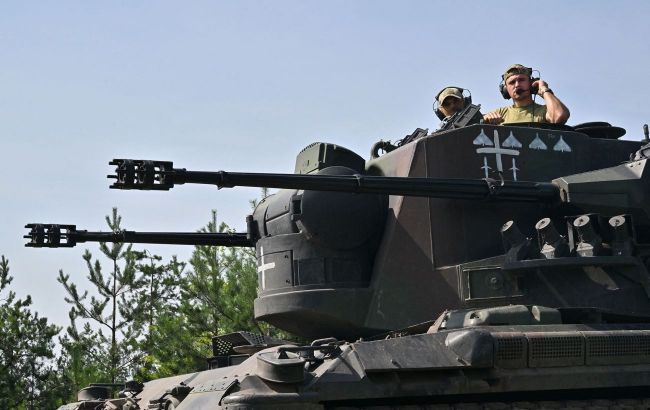 Illustrative photo (Photo: Getty Images)
Germany plans to supply Ukraine with additional air defense systems to help protect grain deliveries from potential Russian attacks, according to Bloomberg.
It is mentioned that Germany will send an additional IRIS-T air defense system and over 12 Gepard anti-aircraft guns to Ukraine to provide protection for cargo traveling to Romania along the country's southern coastline.
The weapons are expected to arrive in Ukraine by the end of this year, with the IRIS-T system being transferred after production.
Ukraine is attempting to increase shipments via the Danube River and overland routes through the so-called Solidarity Lanes after the agreement allowing ships to pass from Black Sea ports through the Bosporus Strait in Türkiye ceased to function.
A small number of vessels also travel in the waters near the coasts of Romania and Bulgaria, ignoring concerns about Russian attacks.
Information from a German MP
German MP Markus Faber, who is a member of the lower house of parliament's defense committee, confirmed that Ukraine would receive more IRIS-T systems and Gepard installations, as well as ammunition for them.
"Ukraine will use those units to better protect its grain ports, for example," he said, without giving details.
Shelling in the Odesa region
After Russia's withdrawal from the "grain deal," terrorists intensified shelling of Ukraine's port infrastructure.
Recently, the occupiers resorted to several waves of attacks using the Shahed-136/131 combat UAVs from the south and southeast directions towards the port infrastructure of the Danube river basin in the Odesa region.
According to the Air Force, the enemy launched a total of 25 combat UAVs. It managed to shoot down 22 of them.
Today, President Volodymyr Zelenskyy announced that Ukraine was doing everything possible to receive more air defense systems before winter. The country was currently awaiting certain decisions from its partners.