Heavy fighting for Avdiivka, advancement near Bakhmut, General Staff's report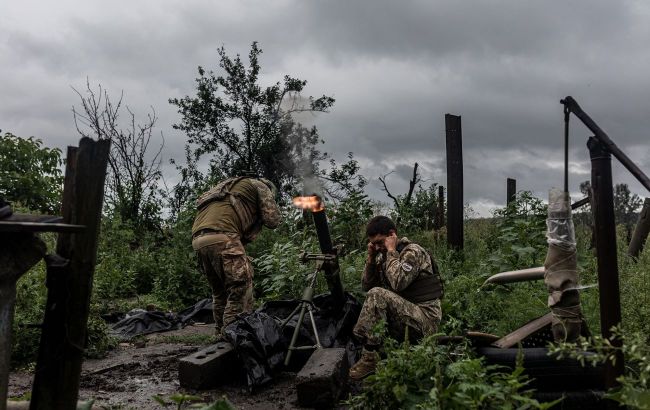 Photo: Ukrainian Armed Forces repelled 20 attacks near Avdiivka (Getty Images)
Fierce battles continue to rage in the Avdiivka area, where the occupiers are attempting to encircle the city. Despite this, our military forces are making advancement near Bakhmut, said the spokesperson of the General Staff of the Armed Forces of Ukraine, Andriy Kovalov, during a televised marathon.
According to Kovalov, the Ukrainian Armed Forces are conducting assault operations south of Bakhmut, inflicting losses on the enemy and solidifying their positions. In turn, the occupiers have attempted to regain lost ground near Klishchivka and Andriivka in the Bakhmut direction. Additionally, Russian forces have launched assault operations in the South, Donetsk region.
On the Melitopol direction, the offensive operation of the Ukrainian Armed Forces continues. The occupiers attempted an attack near Verbove in Zaporizhzhia region, but without success.
Furthermore, the occupation forces are relentless in their efforts to encircle Avdiivka, even using aviation for this purpose. In the Avdiivka direction, Ukrainian forces have repelled approximately 20 enemy attacks.
Active fighting is also ongoing in the Shakhtarsk, Mariupol, and Kupiansk directions. In the vicinity of Maryinka, our units have thwarted 20 Russian attacks, and in the Kupiansk area, 10 attacks have been repelled.
The Situation near Avdiivka
In October, Russian occupiers intensified their offensive on Avdiivka. Vitaliy Barabash, the head of the Avdiivka City Military Administration, pointed out that this offensive is the most significant since 2014.
British intelligence suggests that the occupiers have deployed up to eight brigades near Avdiivka. They have incurred losses that are likely the highest among Russian forces in 2023.
Meanwhile, the Ukrainian Armed Forces estimate the occupiers' losses near Avdiivka at 6,500 personnel since October 10.