First ship departs Odesa port after termination of grain deal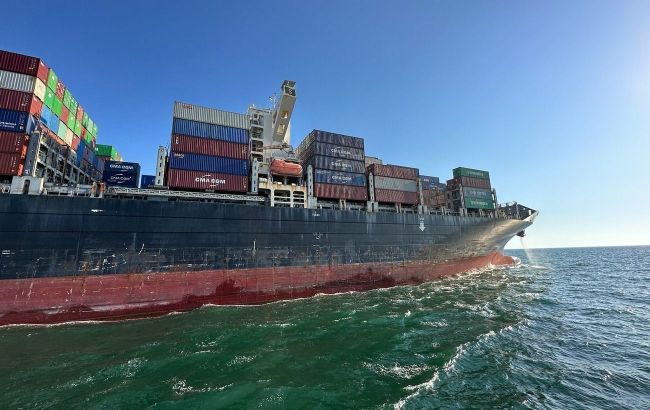 First ship departs Odesa port after termination of grain deal (Photo: facebook.com/oleksandr.kubrakov)
According to a statement shared on Facebook by Oleksandr Kubrakov, Ukraine's Minister for Communities, Territories, and Infrastructure Development, following Russia's withdrawal from the grain deal, the civilian container ship "Joseph Schulte" set sail from Odesa Port on Wednesday, August 16. This ship marked the inaugural voyage through the newly established temporary transport corridor.
"On August 16, 2023, the container ship that had been docked at Odesa port since February 23, 2022, departed past the Vorontsov Lighthouse, heading towards the Bosporus. On board, it carried over 30,000 tons of cargo (2,114 containers), including provisions," Kubrakov wrote.
The newly established corridor is primarily intended for the evacuation of vessels that were present in Ukrainian ports such as Chornomorsk, Odesa, and Pivdenniy during Russia's full-scale invasion. As outlined by Minister Kubrakov, the temporary navigation routes for civilian ships to and from Ukrainian Black Sea ports came into effect on August 8, 2023, under the guidance of the Ukrainian Naval Forces.
This strategic initiative, presented by Ukraine to the International Maritime Organization (IMO), aimed to secure international recognition for Ukraine's rights to unhindered maritime trade. Kubrakov stressed that the IMO Council acknowledges Ukraine's entitlement to free maritime navigation and urges Russia to desist from any threats while adhering to international conventions.
The "Joseph Schulte" became the first ship to depart Odesa port under these circumstances since the last vessel sailed within the framework of the grain deal on July 16.
Photo: First ship departs Odesa port after termination of grain deal (facebook.com/oleksandr.kubrakov)
Transport corridors in the Black Sea
Tensions escalated as Russia exited the grain deal, citing alleged non-compliance. Concurrently, Russian occupying forces initiated hostilities in Odesa, targeting the port and its infrastructure.
Approximately one month following Russia's withdrawal from the agreement, Ukraine unveiled the opening of temporary corridors in the Black Sea for trading vessels. However, the Ukrainian Naval Forces underlined that a potential threat from Russia persisted.
The established maritime routes, designed primarily for the departure of civilian ships situated in Ukrainian ports, such as Chornomorsk, Odesa, and Pivdenniy since the onset of the war, are set to incorporate transparent protocols.
Admiral Oleg Chalyk, the Commander of the Ukrainian Naval Forces, clarified that these routes would be closely monitored, employing onboard cameras to substantiate their humanitarian nature.