Ukraine's preparedness for potential energy sector strikes, Financial Times assesses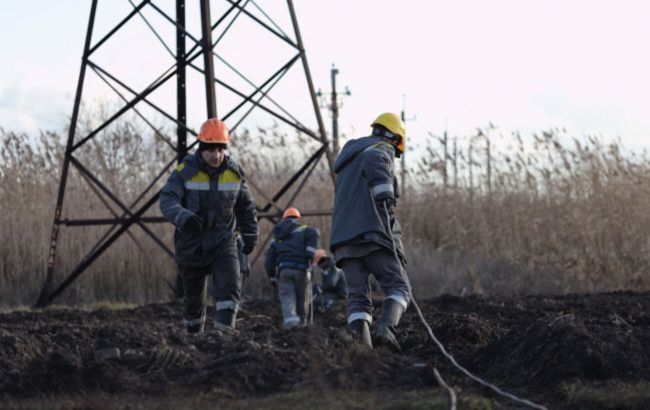 Photo: Ukraine is preparing for Russian energy strikes (Getty Images)
Ukraine is making extensive preparations for potential large-scale attacks from the Russian military on their energy sector, according to the Financial Times.
After a six-month hiatus, Russia resumed its attacks on Ukraine's energy infrastructure just before winter. During the summer, the invaders targeted seaports and grain export infrastructure. However, the energy sector has been under attack again in recent weeks.
Prime Minister Denys Shmyhal noted in his commentary to the FT that Ukraine is not only enhancing its air defense but also establishing a "passive defense" on the ground. The Prime Minister added that Ukraine is better equipped to withstand shelling this year.
"At a critical electricity grid substation in northern Ukraine, a wall of concrete blocks has been erected to protect transformers. Gabions, or cylinder cages filled with rocks or sand, can be seen surrounding another nearby substation, the location of which cannot be revealed due to wartime security rules," stated the publication.
Shmyhal stated that the safeguarding of energy infrastructure is not completely foolproof. Nonetheless, he affirmed that these barricades and containers shield against 80-90% of incidents, particularly those involving drones and related fragments.
Sources cited by FT mention the widespread installation of sandbags and containers throughout Ukraine to protect hundreds of susceptible targets that could be wiped out by a solitary assault, triggering a widespread power outage.

"When you have, for example, transformers, you try to protect them with big bags and sand. These big bags saved us many times and they protect us from the debris of drones and missiles," said Oleksandr Kubrakov, Ukraine's deputy prime minister in charge of infrastructure.
The newspaper reports that underground storage is utilized for energy facilities that do not require ventilation. Substation and transformer repairs are time-consuming in comparison to quick cable replacements. Transporting large structures can take months, which is why spare parts are stored abroad with partners who can quickly order them.
Renewal of the power grid
Shmyhal informed the FT that Ukraine decentralized its grid, reducing the possibility of damage in one region affecting others.
Maksym Timchenko, the executive director of DTEK, Ukraine's largest power-producing company, stated that after a 300MW coal-fired generator was destroyed by Russia last winter, the company built 50 dispersed turbines, each producing 6MW.
"They can hit one turbine but 49 would still be operating," Timchenko said.
Power outages are an inescapable reality
In a commentary, Ukrainian experts explained that despite air defense strengthening, it remains impossible to cover the entire territory of Ukraine. More than 100 substations and high-voltage stations scattered throughout the country create difficulties.
The experts advise the introduction of one to two-hour standardized blackouts if the temperature drops below minus 10 degrees this winter. If there is massive shelling, longer blackouts may occur.
Ukraine is taking measures to prepare for attacks
As a reminder, Ukrainians are being warned of possible new large-scale shelling by the occupiers during the transition to fall and winter. The Russians may target Ukraine's energy sector. Analysts and experts predict that the occupiers will be unable to leave Ukrainians without electricity this winter.
Ukrainian engineers underwent training in the UK in anticipation of winter. The program aims to safeguard the energy sector against potential Russian aggression.
Simultaneously, the Main Directorate of Intelligence of the Ministry of Defence of Ukraine affirms that Russia is gathering missiles for subsequent massive strikes. However, intel confirms that the attacks will be of a smaller scale.