Explosions reported in center of Sevastopol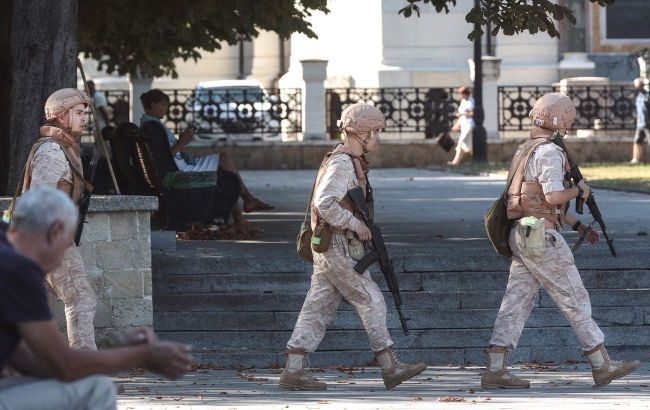 Photo: explosions rang out in occupied Sevastopol (Getty Images)
At least two explosions rang out in the temporarily occupied Sevastopol in Crimea today, November 21, around noon, according to RFE/RL.
Residents of Sevastopol, captured by the Russian occupiers, heard the first explosion in the central part of the city. It happened after about 12:15 p.m.
Later there was another explosion. At the same time, the interventionists did not announce an air alert in Sevastopol.
"And another explosion was heard in the city, reports the correspondent," the agency says.
The message notes that although the alarm was not declared in the city, posts "about missile danger in Crimea" appeared on Russian Telegram channels.
Further explosions
After these two, there were other explosions in Sevastopol. According to Krymskyi veter, there were at least five of them.
"Within 20 minutes in Sevastopol, the sounds of 5 explosions, similar to rocket launches, were heard, our subscribers report," says the report.
Officials have not yet explained what these explosions in Sevastopol could be connected with. Representatives of the occupation "administration" are also silent about the incident.
Explosions in Sevastopol and Crimea
Since the full-scale invasion of the Russian Federation into Ukraine, in various cities of occupied Crimea, explosions related to the strikes of drones and missiles on the locations of the invaders, equipment parking, etc., are regularly heard.
For example, on November 17, explosions rang out in the morning in Sevastopol, and then an air alert was announced in the city. The propagandists and the occupiers claimed that the anti-aircraft missile system allegedly went off in Sevastopol and two targets were shot down.
In addition, on the same day, explosions thundered in the southwest of the peninsula, approximately between the settlements of Bakhchysarai and Kacha. According to civilians, they heard two explosions. In particular, the flight of helicopters was celebrated.
One of the most famous audacious operations of the Defense Forces of Ukraine on the territory of the occupied Crimea was the recent attack on the headquarters of the Black Sea Fleet of the Russian Federation in Sevastopol.
Also, on November 10, fighters of the Main Directorate of Intelligence of the Ministry of Defense of Ukraine conducted an operation using surface drones in Crimea. The Russian landing ship of project 1176 Akula and the ship of project 11770 Serna went to the bottom.